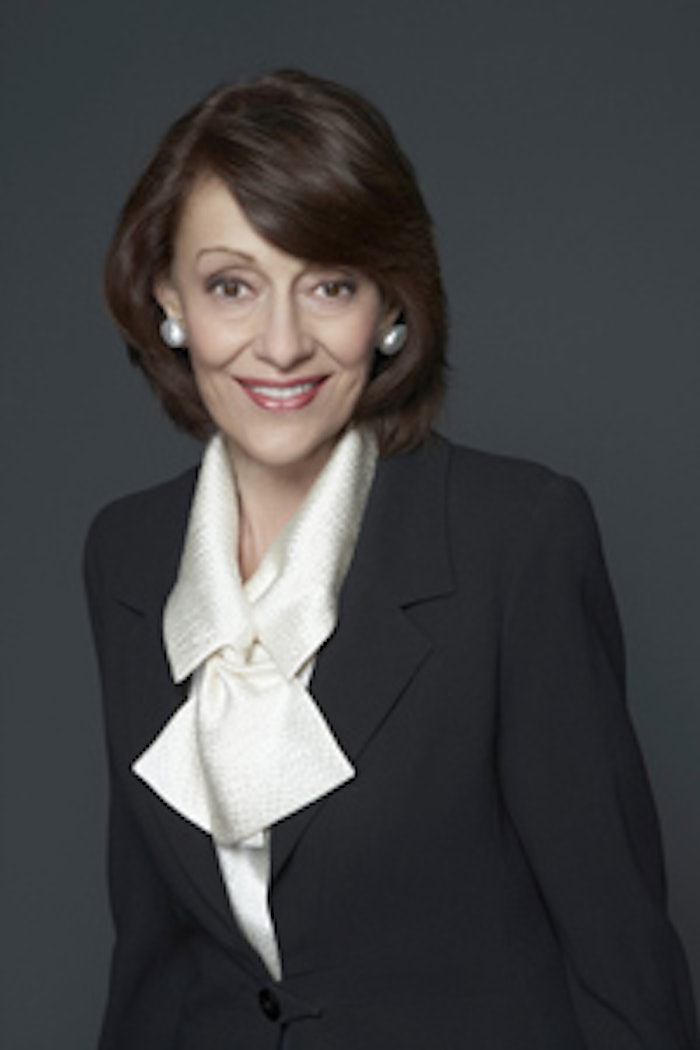 The Estée Lauder Companies Inc. announced the passing of Evelyn H. Lauder, senior corporate vice president and head of fragrance development worldwide, at the age of 75 from complications of non-genetic ovarian cancer. Mrs. Lauder died on November 12, at her home in New York City with her family by her side. She is survived by her family: husband Leonard A. Lauder, chairman emeritus of the Estée Lauder Companies; son William, executive chairman of the Estée Lauder Companies; son Gary, managing director of Lauder Partners LLC, and his wife Laura, general partner of Lauder Partners; and five grandchildren.
"My mother carried the torch of our company heritage and the values that were passed to her by my grandmother, Mrs. Estée Lauder," said William Lauder. "My mother and father were life partners as well as business partners. They nurtured the culture and growth of the Estée Lauder Companies, and as we grew, my mother was our creative compass and pillar of strength. Together my family and the company celebrate the beautiful person she was."
Speaking for the company, president and CEO Fabrizio Freda said, "Evelyn embodied the heart and soul of the Estée Lauder Companies. She was one of the pivotal architects of our vision, values and culture. She was dynamic, creative, smart, endearingly warm, generous and incredibly gifted at connecting with people. Her enthusiasm was contagious."
Lauder's life can easily be described as an American success story. Born in Vienna, Austria, her parents fled from Europe with her during the Nazi occupation, eventually settling in New York City. Asleep when the ship bringing them to the United States arrived in New York Harbor, her mother woke her up to see the Statue of Liberty. Lauder would remember, and be inspired by, that symbol of hope for the rest of her life. She was very proud of having attended and graduated from New York City public schools and from Hunter College, part of the City University of New York. After receiving her college degree, she was a public school teacher in New York City for several years.
As a college freshman, she had been introduced to Leonard A. Lauder, the older son of Estée and Joseph Lauder, owners of a small family cosmetics company, and they married in 1959. That same year she joined the family business. She had many roles then, including serving as new product director and as marketing director. Her teaching background was an excellent springboard for one of her earliest contributions, the creation of the company's brand training programs. She also measured color standards in makeup, sold products in stores, and made numerous personal appearances.
Her insights on fashion trends and consumers' rapidly changing needs influenced new approaches to the development of innovative skin care, makeup and fragrance. The significant contributions she made in education and product development still distinguish the Estée Lauder Companies as the leader in global prestige beauty. When the company began creative work on what became Clinique in 1968, Lauder thought of the name Clinique and became the first to wear the now ubiquitous Clinique white lab coat after she was named the brand's first training director. In 1989, Lauder assumed the role of senior corporate vice president and head of fragrance development worldwide. Her love of gardening and flowers served as inspiration as she designed new fragrances. She led the development of the company's most globally successful fragrances, including the best-selling Beautiful and Pleasures.
Lauder also was a philanthropic leader in New York City. She served on the board of overseers at Memorial Sloan-Kettering Cancer Center and on the boards of the Central Park Conservancy and the Evelyn and Leonard Lauder Foundation. Many other charities also benefited from Lauder's guidance and generosity, including nonprofits devoted to health and human services, education and inner-city schools, the environment, women's causes and the arts. Lauder was perhaps best known to the public for her work in bringing global awareness to women's health, a passion that stemmed from a personal experience with early stage breast cancer. In 1992, she co-created the Pink Ribbon, now recognized as a worldwide symbol of breast health, and launched the Estée Lauder Companies Breast Cancer Awareness (BCA) Campaign. Each year, the BCA Campaign raises funds through its brands, employees and retail partners around the world to help support breast cancer research. Lauder founded The Breast Cancer Research Foundation (BCRF) in 1993 to provide crucial funds to breast cancer medical and scientific researchers around the world. BCRF has raised more than $350 million and supports 186 researchers globally.
"Each October, it is extraordinary to see the absolute dedication of our employees around the world to the BCA Campaign. Evelyn's mission became our mission; her passion became our passion. She inspired all of us, and we will continue to move forward with her vision to rid the world of breast cancer," said Freda.