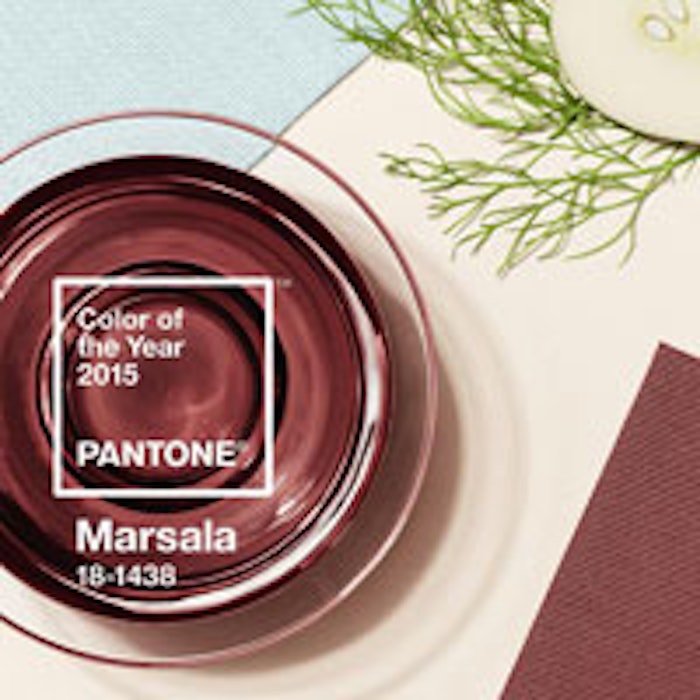 Pantone, an X-Rite company, announced PANTONE 18-1438 Marsala, a naturally robust and earthy wine red, as the 2015 color of the year.
"Much like the fortified wine that gives Marsala its name, this tasteful hue embodies the satisfying richness of a fulfilling meal, while its grounding red-brown roots emanate a sophisticated, natural earthiness," said Leatrice Eiseman, executive director of the Pantone Color Institute. "This hearty, yet stylish tone is universally appealing and translates easily to fashion, beauty, industrial design, home furnishings and interiors."
Marsala for Beauty
A versatile color for beauty, Marsala is an appealing and sophisticated shade that's flattering against many skin tones, offers Pantone. Marsala pairs with monochromatic mixes of peachy pinks, and sparkles against antiqued gold metallics, offering an assortment of lipstick and blush options.
Marsala illuminates a range of smoky-neutral color combinations, making it a captivating eye shadow color that can be worn from morning until night. Add an overlay of bronze for a dramatic look that suits any eye color, or use Marsala as a go-to finishing touch on nails.
Marsala for Packaging
As a striking contrasting color, Marsala is well suited for use in graphic design and packaging. Eye-catching but not overwhelming or bright, consumers are immediately drawn to the hue, making it an alluring shade at point-of-purchase. Marsala will be a natural fit for both high- and low-tech materials, including on-shelf periodicals as well as printed assets.