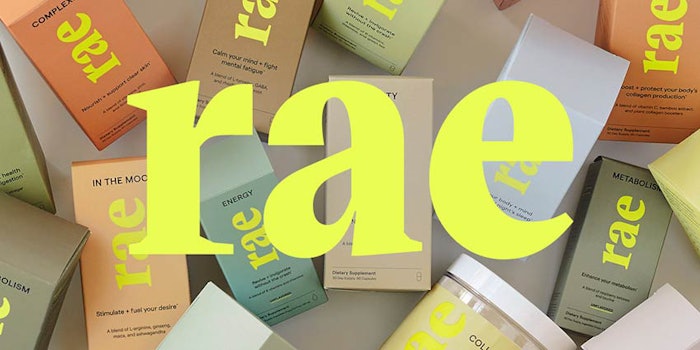 Rae Wellness has announced it's expanding from its traditional direct-to-consumer style into brick-and-mortar retail in an exclusive partnership with Target.
Being its first brick-and-mortar venture, Rae Wellness products will now be found in Target stores and on the Target website, in addition to its own site. Previously sold exclusively on the Rae Wellness site, the brand gained a strong digital presence among consumers.
As a wellness brand, the range of products are targeted toward women looking to alleviate the impact of everyday stress or those aiming to enhance their own personal wellness journey through an ecosystem of targeted solutions.
The following Rae Wellness products will be available in Target's beauty aisle and online:
Beauty capsules
Complexion capsules
Daily Cleanse capsules
DeStress capsules
Hydration Drops
Metabolism drops
Pre/Pro Biotic capsules
Sleep capsules
Vegan Collagen Capsules
Vegan Collagen Powder–Honey Citrus
Vegan Collagen Powder–Unflavored
"We're thrilled with the exciting response Rae Wellness has received from our direct-to-consumer channels and we fundamentally believe in providing high-quality products without the high price tag," Angie Tebbe, Rae Wellness CEO and co-founder, said. "As a next step for our business, we are proud to be launching Rae Wellness at Target, a retailer that's established itself for identifying the most innovative direct-to-consumer brands and bringing them to the masses."