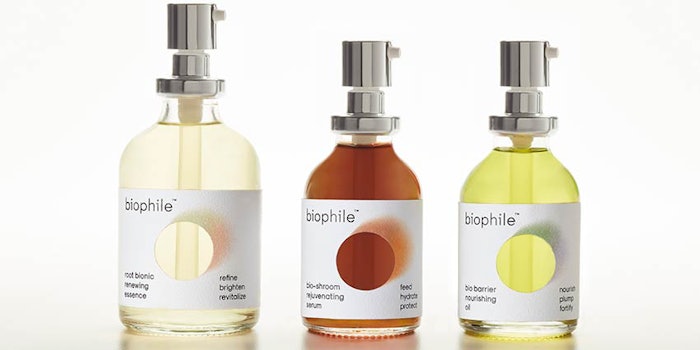 Brooklyn-based Biophile, a bio-fermented skin care line rooted in biology and nature, has received the highest honor from the Indie Beauty Expo: recognition as 2019's "Best Face Serum" at the Best in Show Awards. Biophile was also a finalist for "Best Sustainable Packaging."
Related: Indie Beauty Expo Announces Best in Show 2019 Winners
The brand's Bio-shroom Rejuvenating Serum was selected by a panel of seasoned retail buyers, investors, influencers and editors.
Bio-shroom Rejuvenating Serum is structured around a proprietary bio-fermented Shroom BioticBroth made with three powerful mushrooms and probiotic bacteria. The nutrient-dense broth combines with advanced bio-actives, for powerful antioxidant and adaptogenic support and global skin rejuvenation.
Biophile, which translates to "lover of life and all living things," is new to the clean and sustainable beauty market, having launched in November 2019 at Takamichi Beauty Room, ABC Carpet & Home and direct to consumers online through its website and Verishop.
Co-founded by Alison Cutlan and Grace Fooden, Biophile's products are clean, sustainable, cruelty-free, vegan, gluten free and self-preserving. Its products retail between $78 to $148 (Bio-shroom Rejuvenating Serum). It's signature trio ($125) has been called "the perfectly portable introduction to the visionary brand," by Forbes.
The brand's first trio of bio-fermented formulas are each built around proprietary Biotic Broths. Biophile's Biotic Broths are made with multi-strain probiotic bacteria and botanical, fungi or superfood extracts in a unique bio-fermentation process.
"We're thrilled with this early momentum and that our bio-shroom serum is among such remarkable 'Best in Show' brands," said Alison Cutlan, biophile founder, scientist and award-winning skin care innovator. "There's a better way to take care of the skin and it starts by harnessing the power of biology and botanicals. This is just the beginning!"