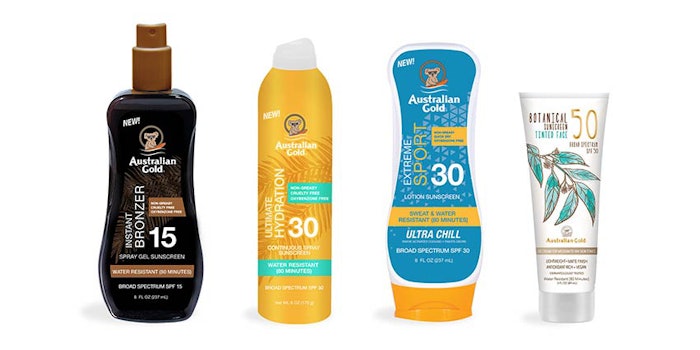 Sun care brand Australian Gold has announced the launch of a newly refreshed look and formulation to its Classic line, as well as some new product launches within new and existing collections.
Further reading: Top trends reinventing sun care.
With the ever-changing landscape of sun care products and increased awareness of ingredients' impact on the environment, Australian Gold has taken on the responsibility to make a change within all of its sun care formulations for the betterment of consumers and our planet.
The reformulations and launches all include the elimination of Oxybenzone and Octinoxate, which research has shown have negatively impacted our coral reefs and are banned in many of our coastal cities and states.
Related: CVS Removes Controversial Sunscreen Chemicals from Store-brand Products
Australian Gold's new products include a Sport Collection new products including a high-performance Sport Collection with proprietary ingredients catered to all active lifestyles and extensions to the brand's Botanical Tinted Face Mineral Lotions. The tinted lotions are developed to match a variety of skin tones/undertones in hypoallergic and dermatologist tested formulations.
Related: Could the US Virgin Islands Be Next to Ban Octinoxate and Oxybenzone?
While going through the process of reformulation, the brand saw an opportunity to take on a larger packaging refresh. After hearing from consumers, Australian Gold decided on maintaining the Koala logo, dark brown label and use of gold accents that consumers know, but with a sleeker, more upscale look.
"With the increase of scientific studies and the rise of social and environmental awareness, we saw an opportunity a few years ago to take action and began the process of reformulating our Classic line," said Kristen Steinbrook,associate director of research and development at Australian Gold. "Since the conception of our new reformulation and the priority of minimizing the chemical activities utilized, Australian Gold has made huge steps forward towards expanding existing products and launching innovative collections, such as the Sport Ultra Chill and the new Botanical Tinted Face Mineral Lotions shades."
"The skin and sun care categories are rapidly changing and our team proactively develops products that provide a superior experience and benefit to our consumers, all while keeping the planet and our ecosystem in mind," Australian Gold CEO Matt Cotton said. "We are excited for the future of the brand and the evolution that we continue to make, keeping you and your loved ones protected while you celebrate life outside."