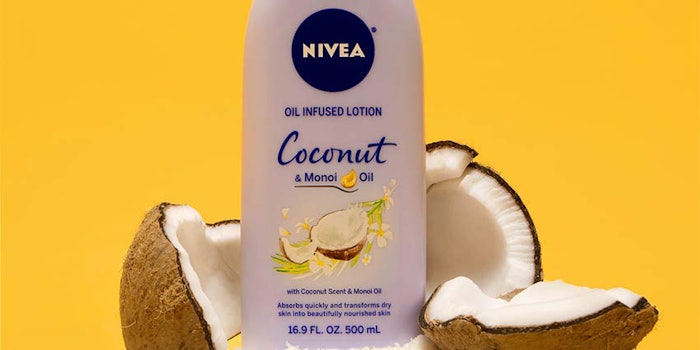 Update: This article has been updated to reflect Beiersdorf's 2020 outlook regarding organic sales growth in the consumer business and tesa business segments.

In fiscal year 2019, its first year of C.A.R.E.+, Beiersdorf grew its sales by 4.1% to €7,653 million, with the consumer business segment contributing through its growth of 4.8%. The tesa business segment also achieved a sales growth of 0.8%.
Previously: Beiersdorf Goes K-beauty with LYCL Deal
Consumer sales reached €6,274 million, an increase of 6.5% from the previous year's total of €5,890 million. Key drivers of the sales growth were the brands Nivea, Eucerin and Aquaphor, as well as La Prairie.
For 2019, tesa sales increased by 2.7%, from €1,343 million in the previous year to €1,379 million. In particular, the trade markets segment, which includes the retail consumer business, contributed to the business segment's positive performance. 
In the consumer business segment, Beiersdorf anticipates organic growth between 3 and 5% for fiscal year 2020. As well as, a slightly positive organic sales growth in the tesa business segment.
Additionally, Beiersdorf has announced any potential impact from the coronavirus on business is not yet quantifiable, and therefore is not reflected in the 2020 outlook.
"In 2019, we proved our competitiveness in an increasingly challenging market environment that had a particular impact on tesa's business," said Stefan De Loecker, chairman of the executive board of Beiersdorf AG. "We delivered on our C.A.R.E.+ commitment by leveraging growth momentum, gaining market share, and strengthening our brand portfolio. Our achievements are the result of the consistent implementation of our C.A.R.E.+ strategy. Even though we expect headwinds in the 2020 financial year, we see good potential and opportunities which we will fully leverage with further investments. With C.A.R.E.+, we are on the right track and are looking forward to the fiscal year ahead with cautious optimism."