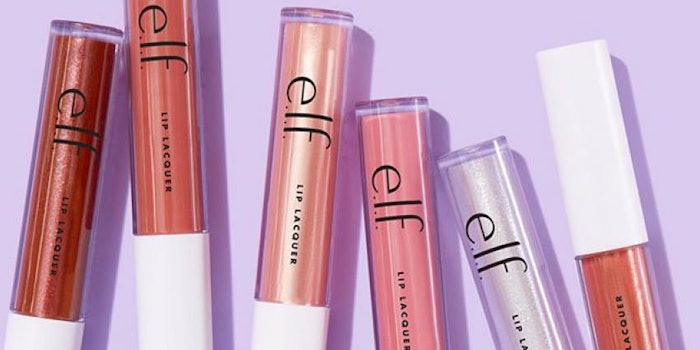 Photo courtesy e.l.f. Beauty's Instagram (@elfcosmetics)
Following the release of its Q3 results, e.l.f. Beauty has increased its Fiscal 2020 outlook. Net sales for Q3 reached $80.8 million, up $2.2 million from Q3 2019 net sales of $78.6 million.
Related: e.l.f. Beauty On Upswing with TikTok, Skin Care and More: Analyst
Due to the closing of e.l.f's 22 retail stores in February 2019, Q3 2019 included $3.7 million in sales related to these locations, but when excluded in the contribution, net sales saw an increase of 8%.
The nine month results for fiscal 2020 also saw net sales increase 3%, up $208.1 million from $201.5 million in the nine months of fiscal 2019. Once again, when excluding the $10.1 million in net sales relating to the 22 e.l.f. stores from Fiscal 2019, net sales for the nine months in Fiscal 2020 saw a 9% increase.
"We are pleased with our third quarter results with net sales of $81 million, up 8 percent excluding e.l.f. retail stores" said chairman and CEO Tarang Amin. "Our team is executing well against our five strategic imperatives and e.l.f. is gaining market share. Our marketing and digital initiatives continue to bring heightened awareness to the brand, particularly among Gen Z and Millennial consumers. Given our momentum, we are raising our Fiscal 2020 guidance."
"We are encouraged by the progress we are making against our strategic imperatives," said Mandy Fields, senior vice president and CFO. "These imperatives have delivered growth, despite a soft color cosmetics category."