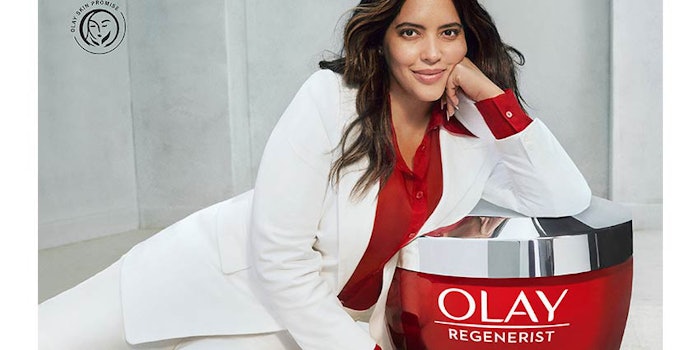 Olay has announced its My Olay campaign will debut the Olay Skin Promise: a declaration that the company's advertising materials in the United States and Canada will not feature women with retouched skin.
Previously: Olay Announces 2020 Super Bowl Ad: #MakeSpaceForWomen
My Olay is a print campaign, in which Busy Phillips, Denise Bidot and Lilly Singh are featured completely unretouched, baring their skin au naturale.
The brand's Skin Promise spans across all U.S. and Canada retailers and advertising channels including print, digital, TV, social media and OOH and will expand to all advertisements across print, digital, TV and OOH by 2021.
Doing their part to fill social feeds with images of confident and courageous women telling the stories of strong skin, this commitment includes content created by influencer partners of the brand and Olay will extend these guidelines to them.
In the United States, 40% of women surveyed by Mintel said they felt beauty advertisements impart an unrealistic expectation, making it unclear what was actually achievable.
Fully embracing the movement toward transparent and authentic beauty imagery, this all-natural promise is inspired by the CVS Beauty Mark announcement in 2018. CVS made a bold move announcing its commitment to transparency for all beauty imagery to inspire real change within the industry and make a significant positive impact on the mental health and wellness of its customers.
"We recognize that there are many conflicting expectations for women and it has always been our mission to use our platform to encourage the next generation of women to be unapologetically bold and true to themselves," said Christopher Heiert, vice president and general manager, Olay Global Franchise and North America Skin Care. "Olay believes that, for many women, being inspired to face anything starts with seeing women who look like themselves in the ads they are seeing on a daily basis."
"We are thrilled CVS' Beauty Mark Initiative has influenced the way brands and consumers think about beauty imagery and the messages they send," said Maly Bernstein, vice president of beauty and personal care, CVS Health. "We are excited to congratulate Olay as it takes this step to join us in leading that change and furthering our progress in driving a more authentic and diverse representation of beauty beyond the doors of CVS Pharmacy."
"For Olay to take this stand and say, 'We're about skincare, we're about having you feel your best and having you feel like your most confident self,' it's a really big deal," Busy Philipps said. "The more huge companies like Olay that can stand up, the better everyone's going to be. You want to see yourself reflected. You don't want to see something that's completely unattainable because that's not real."