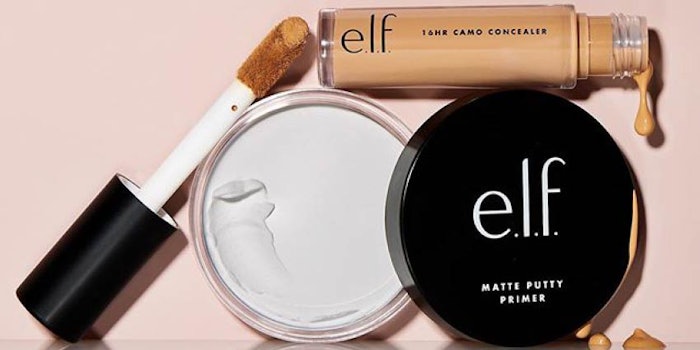 Photo courtesy e.l.f. Beauty's Instagram (@elfcosmetics)
For $27 million in cash, e.l.f. Beauty has acquired clean beauty brand W3ll People and expects it to contribute approximately $7 million in net sales and $0.01 to its adjusted earnings per share on a fully diluted basis in fiscal 2021.
The company plans to leverage its marketing, customer relationships and operational capabilities to drive the W3ll People brand, which was launched in 2008 by James Walker, Shirley Pinkson and Renee Snyder, Ph.D., to provide high-quality, clean cosmetics.
W3ll People is cruelty-free and its plant-based product-line, which contains no fillers, propylene glycol, petrochemicals or petroleum byproducts, includes forty EWG Verified products.
The clean beauty company has an emerging presence at leading national retailers including Target and Whole Foods; through natural specialty retailers such as Credo Beauty and The Detox Market; and online through Amazon.com, Ulta.com and its own site.
William Hood & Company, LLC served as exclusive financial advisor to W3ll People in the transaction.
"We are pleased to bring clean beauty pioneer W3ll People under the e.l.f. Beauty umbrella as our first strategic extension," Tarang Amin, e.l.f. Beauty chairman and CEO, said. "Clean beauty is a strategically important segment given consumer sentiment and strong growth rates. W3ll People has a long history of expertise and credibility in clean beauty that works. Their brand values and market opportunity align closely with e.l.f. and we believe there are a number of synergies to be realized on both the cost and distribution fronts."
Amin continued, "We have been transparent about our desire to pursue strategic extensions that can leverage our strengths and bring new capabilities to e.l.f., and we have been disciplined in this process. W3ll People is rooted in a deep and passionate understanding of clean beauty and shares our mission of making the best of beauty accessible. We believe that W3ll People's 12 years of clean beauty experience and high-quality product line, in combination with e.l.f.'s multiple strengths from operations to marketing, will be attractive to our retail partners–including Target, our longest-standing customer."
"W3ll People has a remarkable history of breaking beauty boundaries, and the acquisition by e.l.f. is an incredible milestone in our effort to make clean beauty accessible," said James Walker, co-founder of W3ll People. "We feel tremendously grateful for our brand's success and the extraordinary team that helped build it."