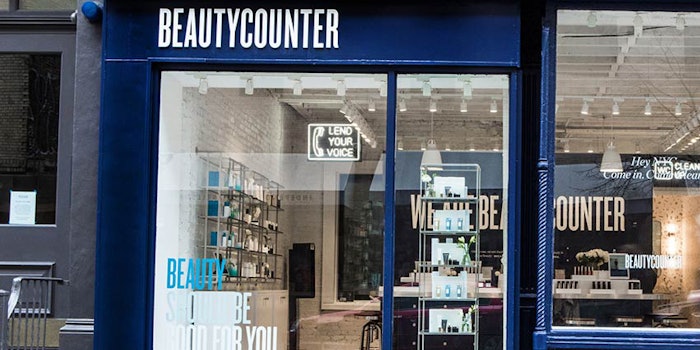 Beautycounter has been named number one in the beauty category for Fast Company's annual list of the world's Most Innovative Companies (MIC) for 2020. This marks the third year Beautycounter has received the honor of being included on this list.
Related: 33 Disruptive Beauty Brands to Watch in 2020
The rest of the top-ranked companies are as follow:
2. Target (for its clean personal care initiative)
3. L'Oreal
4. Unilever
6. Sephora
7. Flamingo
8. Mindbody
9. Revair
10. Bravo Sierra
The list honors the businesses making the most profound impact on industry and culture, showcasing a variety of ways to thrive in today's fast-changing world. This year's MIC list features 434 businesses from 39 countries.
As a developer and distributor of its own high-performing products made with ingredients significantly safer for health—including skin care, color cosmetics, advanced anti-aging, kids, baby, men's and personal care collections—Beautycounter drives a growing national movement to demand better regulations for the beauty industry.
Previously: Beautycounter's Countertime Collection EWG Verified
Since its launch in 2013, Beautycounter has attracted national attention as the first brand to take a meaningful position on cosmetic reform. Through its trademarked The Never List, Beautycounter has prohibited the use of more than 1,800 questionable or harmful ingredients in their product formulations, well beyond the 30 banned by U.S. law.
Beautycounter also works extensively at the federal level to improve transparency and accountability of the beauty industry, and advocates for stronger cosmetic safety laws which have stood largely unchanged since 1938.
In December 2019, Gregg Renfrew was invited to testify as an expert witness before Congress in only the second hearing on cosmetic reform held in the House in the past 40 years. Speaking for millions of Americans, Renfrew delivered a powerful message: the FDA must better protect consumers, and the time to act is now.
With the clean beauty sector expected to hit $22 billion by 2024, Beautycounter continues to push the industry forward with innovative product launches, sustainability, safety regulations and advocacy efforts for cosmetic reform.
One example of this is their recently released short documentary on their mica supply chain. For the past two years, they have been auditing their mica supply chain to ensure their mica is being sourced responsibly, as there are many unethical practices associated with how it's mined, including forced labor, child labor, and wage theft.
By the end of 2020, Beautycounter will have physically audited all of their mica mines and be the first beauty brand to do so. With their work around mica, they are shedding light on the unethical issues in the supply chain and inspiring a movement of change across all industries who use the mineral.
Fast Company's editors and writers sought out the most groundbreaking businesses on the planet and across myriad industries. They also judged nominations received through their application process.
The World's Most Innovative Companies is Fast Company's signature franchise and one of its most highly anticipated editorial efforts of the year. It provides both a snapshot and a road map for the future of innovation across the most dynamic sectors of the economy.
"We are proud to be named again as one of Fast Company's Most Innovative Companies," Beautycounter Founder and CEO Gregg Renfrew said. "This not only acknowledges our leadership in the clean beauty movement, but also further solidifies our leadership in the beauty industry as a whole."
"At a time of increasing global volatility, this year's list showcases the resilience and optimism of businesses across the world," said Fast Company senior editor Amy Farley, who oversaw the issue with deputy editor David Lidsky. "These companies are applying creativity to solve challenges within their industries and far beyond."