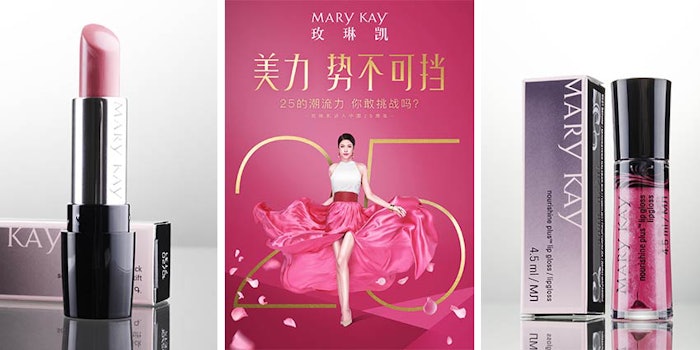 Mary Kay Inc. ushered in the 25th anniversary of entering the Chinese market and has announced product launches in celebration. Since then, the brand has upheld the mission of enriching women's lives, building their own abundance for countless women and achieving the growth process of accumulating in the Chinese market.
Previously: Mary Kay China Names Katherine Weng GM
The brand came to China in 1995 with the mission of enriching women's lives. Through the low threshold, light start and recultivation of "Mili We," it helped Chinese women achieve economic independence and personal growth, and gained character, talent and comprehensive improvement of image.
As one of the first international cosmetic brands to enter the Chinese market in the 1990s, Mary Kay rapidly grew into the main force in the Chinese cosmetics market. In the eyes of Mary Kay China president Weng Wenzhi, the road of 25 years is not smooth, but Mary Kay always maintains a sober understanding and calm response to the difficulties.
In 2003, Mary Kay began to deploy an e-commerce system. Although consumers at that time were still accustomed to offline shopping; in the first year of profit, Mary Kay set up a female entrepreneurship fund to help ordinary women realize their dreams, giving women more definitions and standards of success.
At the "2020 Shanghai Global New Product Launch Season and Shanghai International Beauty Festival Launch Ceremony," Mary Kay's new launch sub-brand, Intelliderm, attracted attention from all walks of life, following the launch of the nursing product sub-brand Yi in 2017.
After Nikon Dailybenifit and the 2019 makeup brand Pink Pinungung, this Yitai Research skin care series will focus on scientific innovation and high-energy effects, improve women's skin from the roots and further demonstrate Mary Kay's innovative spirit of constantly subverting herself.
In addition to the soon to come products, Mary Kay will also cooperate with the sHero International Forum to launch the SHERO25 list selection activity to recognize the outstanding, beautiful and eye-catching female representatives of the country in 2020.
At the same time, the online live broadcast of the grand ceremony, offline landmark advertising punching cards and telling your "Mili" story. The Mili 25 series of activities across the country have been launched one after another to jointly celebrate Mary Kay China's 25th birthday.