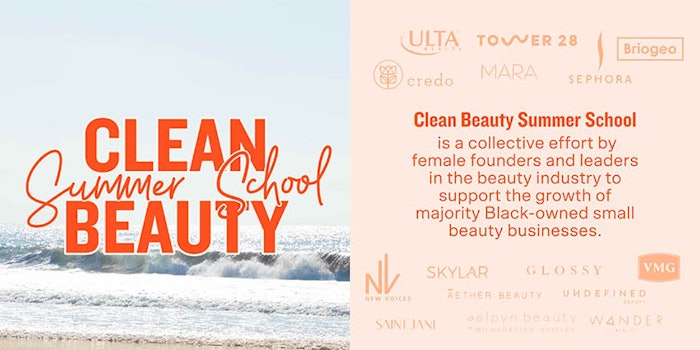 Clean Beauty Summer School, presented by Tower 28, draws on the expertise of female founders and experts in the beauty industry to support the growth of majority Black-owned small beauty businesses. Applications are now open, with finalists being named July 15.
The goal is to counteract systemic racism and injustice by spotlighting and supporting Black entrepreneurs in the clean beauty industry.
Participants in the program will attend a 10-session course throughout August and early September, learning about product development and manufacturing, digital marketing, financial planning, fundraising, pitching retailers, and more.
Participants will also be assigned a mentor who will help guide them one-on-one through Summer School in preparation for the pitch day, during which each participant will present to a panel of judges, including Sephora and Ulta Beauty buyers, a beauty editor, and potential investors.
The winning company will receive guaranteed meetings with both Sephora and Ulta Beauty buyers, plus a $10,000 grant from the New Voices Foundation, a 501(c)3 organization offering women of color entrepreneurs access, capital and expertise to build, grow and scale their businesses with purpose via flexible funding, learning and networking opportunities.
Applications are now open; 10 finalists will be selected by July 15.
To enter, brands:
must be majority Black-owned, a beauty business (anywhere from prototype to launched with limited distribution);
focused on clean and/or sustainable CPG/hard goods (or working towards it);
and have three employees or fewer.
 Mentors for the program include:
Allison McNamara, founder/CEO of Mara
Amy Liu, founder/CEO of Tower 28
Annie Jackson, co-founder/COO of Credo
Averyl Andrews, director of merchandising at Sephora
Casey Georgeson, founder/CEO of Saint Jane Beauty
Cat Chen, founder/CEO of Skylar
Courtney Nelson, consumer investor
Dawn Francisco, Narrativ and formerly Estee Lauder
Dorian Morris, founder/CEO of Undefined Beauty
Kendra Kolb Butler, founder of Alpyn Beauty
Tiila Abbitt, founder/CEO of Āether Beauty
Judges include:
Alisa Williams, partner at VMG Partners
Cindy Deily, VP of skin care merchandising at Sephora
Divya Gugnani, investor and co-founder of Wander Beauty
Jessica Phillips, VP of merchandising at Ulta Beauty
Priya Rao, executive editor at Glossy
Pitch day moderator: Jamie Greenberg, celebrity makeup artist
Keynote speaker: Nancy Twine, Briogeo