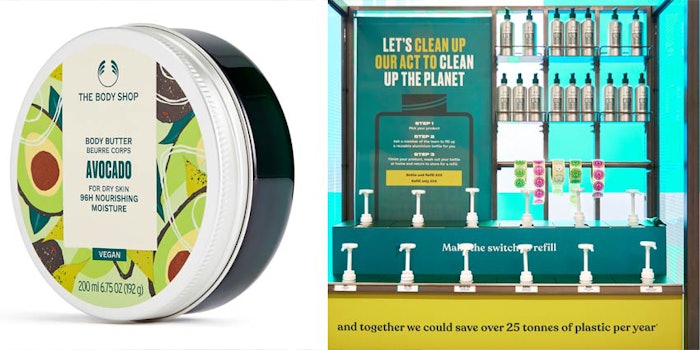 The Body Shop will be 100% vegan-certified and carry the Vegan Society's Vegan trademark by 2023; it has also unveiled its refill system.
Vegan Future
The Body Shop campaigned against animal testing in cosmetics in 1989. Currently, 60% of the brand's products are vegan, including the Tea Tree skin care range, the Himalayan Charcoal Purifying Glow Mask, its Body Yogurts and, now, the brand's Body Butters. New vegan Body Butters will be rolled out globally this year and will bear the Vegan trademark.
"Our decision to go 100% vegan is a natural next step for The Body Shop," says Lionel Thoreau, global brand director, The Body Shop. "Thanks to our founder Anita Roddick, we were the first beauty company to fight against animal testing in cosmetics, and the first major global beauty brand to use cruelty-free musk in our fragrances. Vegan beauty is a critical next step in our sustainability and environmental endeavors. This, along with our global refill and in-store recycling programs makes The Body Shop a destination for ethically-minded customers."
"We're delighted to be working with The Body Shop, a pioneering ethical beauty company," says Chantelle Adkins, director of business development at The Vegan Society. "Their ambition to achieve 100% Vegan Trademark certification across their substantial portfolio of formulations by the end of 2023 demonstrates their commitment to deliver the very best in both efficacious and planet-loving products. The Body Shop is taking a different approach by certifying each ingredient rather than just the product. This is a real first for the beauty industry, and again, The Body Shop demonstrates how business can be good for people and the planet."
Sustainable Packaging Initiatives
The Body Shop offered refills as early as 1976 and returnable bottles in 1993 via its Bring Back Our Bottle recycling scheme. Now, the company will roll out refill stations across 500 stores globally this year, and a further 300 stores in 2022.
The Body Shop will also extend its in-store recycling program, Return, Recycle and Repeat, across 800 stores in 14 markets by the end of 2021.
Executive Interview: Lionel Thoreau
Global Cosmetic Industry recently interviewed Thoreau to learn more about the certifications and the expansion of sustainable packaging systems.
How much reformulation was involved to achieve the vegan status for the brand's range? Were there any significant changes? 
Thoreau: We had to rework about 45% of our formulations. Currently 60% The Body Shop product formulations are vegan and we are on course to achieve 100% by the end of 2023. We've decided to remove all animal derivatives from our products, which in our case is mainly beeswax and honey. 
In addition to changing our formulation, we have to go through a validation process with The Vegan Society, the global gold standard in vegan certification. The Vegan Society takes an extremely thorough approach to certification and contact is made with every supplier and manufacturer of raw materials within the product catalogue.
We decided to take a different approach by certifying each ingredient, rather than just the final product. For The Body Shop, that's over 3,700 raw materials. This approach is intensive and a significant investment for The Body Shop. All worth it, as vegan beauty is a critical next step in our sustainability and environmental endeavors. 
What are the key challenges of scaling up packaging sustainability programs of this kind?
Thoreau: Our global refills program is really ambitious–we want to start a refills revolution around the world! As you can imagine, large-scale programs like this are complex and it all comes down to choices. 
Our number-one priority is to provide convenience to our customers. We know it takes a lot to change human behavior, so to make our refill program mainstream, it needs to be accessible, appealing and easy. We will open refill stations in 500 stores this year and a further 300 in 2022. 
We're are starting with shower gels shampoos, conditioners and handwashes, products that have a high user frequency. Over time, we will increase our offering. 
Making a refill proposition that is compliant with local regulations across our 70-plus markets takes time and understanding, so we needed to work closely with our partners around the world to unify our proposition. For our recycling program, picking the right partners and ensuring we are complying with local regulations is also key. 
An important factor for scalability is that we have two different size and shapes of refill stations. This means we can include refill stations even in our smaller stores, making accessibility more widespread. 
Can you describe how the refill stations will function? Will there be incentive systems for spurring consumers to refill? 
Thoreau: Customers just need to pick up a refillable aluminum bottle in-store and choose from some of our best-loved shower gels, shampoos, conditioners and hand washes. Once finished, they just give it a rinse, bring it back and refill it in-store. It really is that simple! 
We know our customers want to be part of positive climate action and we are supporting them by putting the power of change in their hands. For example, individually we can prevent 32 plastic bottles going to waste each year–collectively this adds up to 25 tons of plastic we could save in the first year. 
Our incentives will differ by market, but on the whole, our aim is that every fifth refill is free, encouraging customers to continue refilling. 
What were the packaging considerations related to the development of refillable concepts/packaging? 
Thoreau: These were our key considerations: 
Durability: We selected aluminum for its strength and durability and the fact that it can be infinitely recycled. We hope that the bottles will last forever and be the perfect refill vessel on our much-loved products. 
Customer experience: Usability is a big factor in the uptake of the program, and it was important for us to include a pump on the bottle for ease of use, as you can't "squeeze" aluminum like you can our standard plastic bottle variants. We've chosen product textures that are fluid enough to be pumped through our refill stands, convenient for our store colleagues and also our customers.
Aesthetic: People take pride in the products on display in their bathrooms. The tall sleek refillable bottle with our green catchy slogan "Refill, Reuse, Repeat, Repeat, Repeat" is a perfect addition to any bathroom.
Impact: Aluminum is a circular resource that can be infinitely recycled. Individually we can prevent 32 plastic bottles going to waste each year - collectively this adds up to 25 tonnes of plastic we could save in the first year.
Hygiene: Our bottle and pump are easy to clean and the pump can lock to avoid spillages when returning to store to refill.
What are the prospects for recycling/refills in an increasingly e-commerce-focused environment? 
Thoreau: We are currently exploring introducing refillable options through our website and through our direct selling channel, The Body Shop At Home. Watch this space!