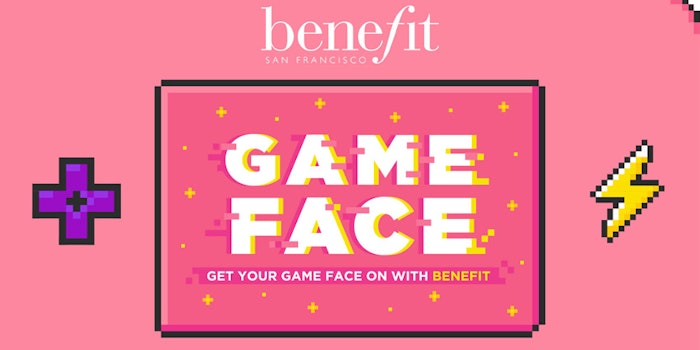 Benefit Cosmetics has launched a Twitch channel, thereby expanding its pilot "Game Face" campaign into a global program to engage beauty lovers in the gaming space.

The campaign originally launched in 2020 to connect the beauty and gaming communities as well as support and champion more women in gaming.
Previously: e.l.f. Beauty Dives into Twitch
Benefit Cosmetics has partnered with women in gaming, encouraging them to get their "Game Face" on using Benefit Cosmetics' makeup and to show off their best livestream looks with confidence.
Starting June 21, Benefit Cosmetics will host streams on Twitch for a full week, partnering with 20 gamers from the United States, United Kingdom, France, Canada, Brazil, Australia, the Middle East and Germany.
The livestreams will feature gamers showing their go-to "Game Face" makeup routines as they share what playing with confidence means to them. Gamers will also unbox special Benefit Cosmetics makeup hauls and try on products for viewers. 
On June 28, Twitch streamers Sydney Parker and Jodi Locke will be streaming a Get Ready With Me and speaking to their experiences as women in a male-dominated industry.
Toto HaBa, SVP of marketing and communications, Benefit Cosmetics, said: "Our goal is to create a space where they can explore and combine their interests in beauty and gaming and ultimately feel empowered to get their best "Game Face" on so they can play and livestream with confidence. I hope to see more beauty brands tap into the gaming industry to support and highlight underrepresented talent."