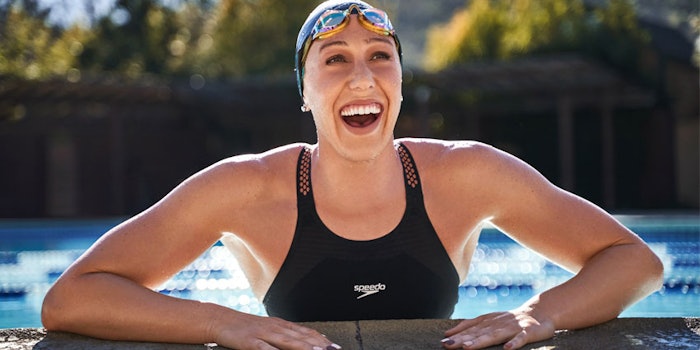 Face Reality Skincare has partnered with Olympic swimmer Abbey Weitzeil in honor of June Acne Awareness month to promote skin health and acne positivity.
Previously: Chemyunion Launches Miracne Acne Treatment
Face Reality Skincare creates a personalized treatment plan which includes a combination of professional services and at-home regimen that is customized to each individual's skin care needs.
Weitzeil qualified for the 2020 U.S. Olympic Swim Team in both the 50 m and 100 m freestyle, with the only sub 54-second (53.52 seconds) performance.
Jeremy Soine, Face Reality Skincare, CEO said: "Abbey is arguably one of the most dominant female sprinters in collegiate swimming history, she embodies strength and is a symbol for women's empowerment. However, despite her athletic success and achievements in the pool, Abbey has struggled to find balance with her skin. She recently sought the help of our team of Acne Experts to help her develop a strategic skincare program, so she can confidently step up to the blocks in Tokyo."
Weitzeil said: "I have been using Face Reality Skincare for a couple of months and I have already seen an incredible difference in my skin. Since I was young, I've always suffered from backne and in more recent years, breakouts on my face as well. Hours and years in the chlorine pool was negatively affecting my skin and I started to get so self-conscious every time I got out of the pool. Not just physically, but mentally, I was not feeling confident in my own skin. I've always thought that the secret to clearing acne was to dry it out, but I've only recently learned that is a myth. Finding a regimen that both treats and hydrates skin has been such a game changer for me, and for the first time I feel like I'm getting my acne under control."
Cat Loftus, licensed esthetician, and acne expert at Face Reality Acne Clinic, said: "Because Abbey's lifestyle as a professional athlete results in unique issues like extreme dehydration as well as breakouts from prolonged chlorine exposure, we took a holistic approach when creating a treatment plan that fit her diet and lifestyle choices. Abbey's journey with Face Reality started with virtual consultations which were very effective for her, and most recently we have welcomed her into our new Face Reality Clinic in Danville for in-person professional treatments."