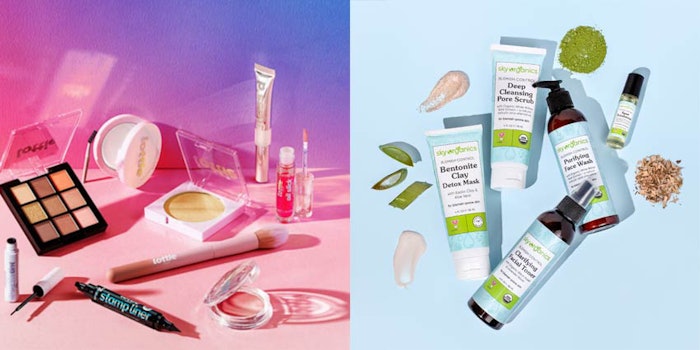 This week's roundup includes everything from new wellness brands to U.S. retail expansions for overseas brands. Read on for our latest breakdown.
Previously: Launch Roundup: Hip Dot, NYX and More
New Brands
Kroma, a celebrity-backed wellness brand, offers lattes, elixiers, broths, smoothies, superfood snacks, teas and supplements. Products include OMG Cookie Butter bites, Change Your Life Chai Latte, Super Porridge and Supergreens Elixir.
New Launches
R+Co has partnered with celebrity hairstylist Jenny Cho on a capsule collection. The Velvet Curtain Cotton Touch Texture Balm dry-styler adds soft volume and light hold for all hair types. Key ingredients include Nordic cotton fower, pro vitamin B5, sunflower seed oil and amaranth flower seed extract. Scent: Dark Waves (featuring cardamom and pineapple). For every purchase of Velvet Curtain, a portion of proceeds is donated to One Tree Planted. Cho said, "Velvet Curtain adds a low velvety glow, with a slight texture. I love using it on dry hair, or on anyone with a slight wavy texture, sleek bob or even a short-textured haircut. Apply a dime size and run your fingers through the hair, and add more if needed. You can never use too much of this." The Rainless Dry Cleansing Conditioner is paired with a velvet scrunchie from Lelet NY. The mist absorbs sebum, while nourishing and refreshing strands. Key ingredients include banana extract provides, lemon balm, black currant seed oil, and ashwagandha and ginkgo biloba. Scent: Relative Paradise (Sicilian lemon, eucalyptus, green yea, etc.). Cho said, "Rainless refreshes the scalp and brings curls back to life. Mist this product as a refresher onto curls that have lost their form. Spray it on frizz, and use your fingers to twist hair and bring back the curls. You can also spray Rainless onto the roots for nourishment." The launches are available at RandCo.com, Bluemercury, Space NK, NeimanMarcus.com and salons.
Sugar Cosmetics has launched the five-product, super-hydrating Aquaholic Range, including a Clarifying Spot Gel (addressing acne and featuring salicylic acid, dipotassium glycyrrhizate derived from liquorice root extracts, aloe vera leaf juice and honey extracts), a mild Pore Exfoliating Scrub (featuring sea salt, hyaluronic acid and jojoba oil), a Hydrating Primer (featuring peppermint leaf and rose water, as well as glycerin), a Hyaluronic Serum (featuring witch hazel leaf, green tea, cica and aloe extracts, along with natural oils of geranium and jojoba) and an Instant Pore Cleansing Mask (featuring bentonite clay, cica and tea leaf extracts).
Love Beauty and Planet has launched a range featuring upcycled rice bran oil and ethically sourced angelica essence. The collection includes the Rice Oil & Angelica Essence Moisturizing Hair Conditioner for Curls and Waves, Rice Oil and Angelica Essence Curls and Waves Cleansing Shampoo Milk, Rice Oil & Angelica Essence Curls and Waves Conditioning and Styling Treatment, and the Rice Oil and Angelica Essence Curls and Waves Pre-Cleanse Primer Treatment. The products retail at Target.
Retail Partnerships
Sky Organics has launched its Blemish Control collection at Whole Foods stores and SkyOrganics.com. The collection includes organic white willow bark extract as an alternative to salycylic acid. Other key ingredients include tea tree oil for skin clarity, and aloe vera, lavender water and green tea extract for balanced and soothed skin. The cruelty-free collection features the Purifying Face Wash, Clarifying Facial Toner, Spot Treatment, Deep Cleansing Pore Scrub and Bentonite Clay Detox Mask. The products are priced at $12.95-14.95.
Ciate London-owned Lottie London has entered Walmart stores to expand its U.S. presence. The initial end cap featured best-sellers like the Stamp Liner: Wing Edition, Freckle Tint and Mega Brow. These products are now available permanently in the 598 Walmart stores that sell Lottie London. The brand is adding wall structures in-store. Lottie London is cruelty-free; the products at Walmart are 100% vegan.
PÜR will be featured in the Ulta Beauty at Target assortment launching in-store in August 2021. PÜR's Ulta Beauty at Target offerings include: 4-in-1 Pressed Mineral Makeup, 4-in-1 Correcting Primer, Tinted Moisturizer, Downtown Detox, Forever Clean,  See No More, Tone Up, Ceretin Serum, Cloud Cream, Get a Lift,  Lit Mist, Forever Soft Lip Mask, Mineral Glow, Blushing Act, On Point Waterproof Liquid Eyeliner Pen, On Point Eye Liner, Fully Charged Lash Primer, Fully Charged Mascara, Big Look Mascara, On Point Mascara with Hemp, Lash Glue, and Pro Eyelashes.
Seoul-based Vitabrid C12 has expanded in the U.S. market, announcing Nordstrom.com as the brand's latest retail partner. Offerings include Vitabrid CG and Secret Code P-151, a 12-hour vitamin C and novel collagen-promoting peptide solution, respectively. Vitabrid C12 also offers its innovations at the recently opened Allure Store.
Eczema Honey is now available at Target.com and in Target stores nationwide. The brand features skin care for those with skin sensitivities, featuring food-grade ingredients. Products include a skin soothing cream, a nourishing lip balm, a brown sugar face scrub and Allure-favorite, the Oatmeal Hand Cream.
Conscious Coconut has expanded to the Rocky Mountain Region of Whole Foods, expanding the brand's reach across eight U.S. states. It is also available at Erewhon, Bristol Farms, SunLife Organics, Bloomingdales, Exhale Spas, barre3, Urban Outfitters, West Elm, Cafe Gratitudes, CIBO Express Markets (airports), Omni, Marriott and Hilton Corporate, 1 Hotels, Edition Hotels, Canyon Ranch Resorts and Four Seasons. At Whole Foods, the brand will be found in the body care, travel and checkout areas. Products featured include: Travel-Ready Tubes of Coconut Oil, Not Your Ordinary Coconut Oil Jar, Travel Dry Brush Bundle, Individual Coconut Oil Packets, Biodegradable Coconut Oil Wipes and Hair Mask Kit.
C'est Moi is expanding into 3,000 Walmart retail stores and online at Walmart.com in the retailer's Mindful Beauty Collection. Elsewhere, its products are available on its own site, Amazon, Target and CVS stores.