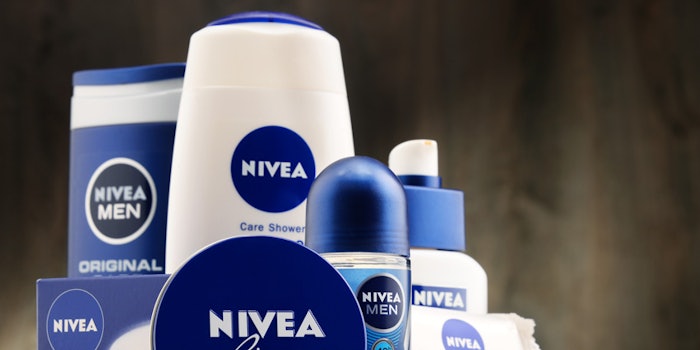 Beiersdorf has announced its six-month 2021 results, which showed group sales grew 16.2% from €3.4 billion in 2020 to €3.9 billion.
Consumer Business Segment
The Consumer Business Segment recorded sales grew 9.4% to €3.1 billion.
Nivea achieved a 9.1% year-on-year increase in organic sales. Strong sales growth in the body and face care categories contributed to the strong performance in the first six months of 2021.
Previously: Nivea Accelerator Expands to China
La Prairie achieved strong organic year-on-year growth of 41% in the first six months of the year. 
The dermocosmetics brands Eucerin and Aquaphor achieved organic sales growth of 22.1% in the first half of 2021.
C.A.R.E Strategy
Reaching consumers on digital channels will be one core priority to accelerate the digital transformation of Beiersdorf's successful business model. 
One quarter of the growth in its mass business and one third of the growth in its derma business in Q1 2021 resulted from e-commerce.
To fully leverage the potential of the digital transformation, Beiersdorf will dedicate a significant share of its €300 million investment to the digital programs. 
Chinese Market
Over the past few years, Beiersdorf has established a strong footprint in China, particularly based on its skin care expertise in the premium segment with La Prairie and Eucerin. 
In the first half of 2021, Beiersdorf significantly expanded the online presence of its core brands La Prairie, Eucerin, and Nivea.
Sustainability
With the Nivea Naturally Good face care range and the entire Nivea shower range in Germany, Beiersdorf launched its first climate-neutralized Nivea products. 
Vincent Warnery, CEO of Beiersdorf AG, said: "Performing above pre-crisis level with our strong half-year results is proof that we consistently deliver on the right priorities through our C.A.R.E.+ strategy. We successfully managed to improve both sales and profitability compared to last year's first half – despite still volatile market conditions. This is the momentum we want to use going forward. We will further accelerate the C.A.R.E.+ strategy: By tapping new business areas, by further driving profitability, and by fostering the digital transformation of Beiersdorf and our industry."