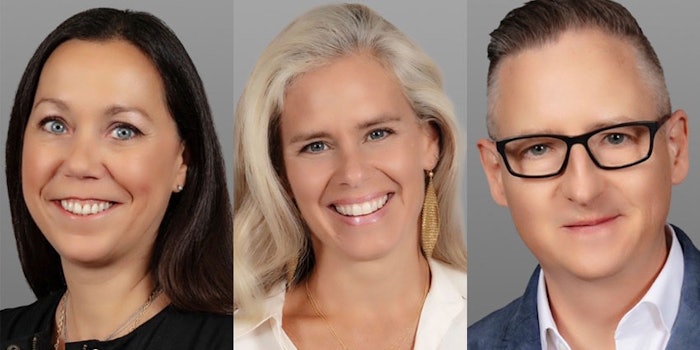 Wella Company has appointed three C-suite executives to its leadership team: Virginie Costa joins as global chief financial officer; Gretchen Koback Pursel joins as global chief people officer; and Hugh Dineen joins as president of global brands and global chief marketing officer. The appointments are effective immediately.
Costa most recently served as CFO of Godiva. She is a member of the board of directors for Advantage Solutions, a global communications and media company, where she chairs the audit committee.
Previously: Wella x Eluceda
Koback Pursel most recently served as CHRO at Tiffany & Co.
Dineen comes to Wella Company from MetLife where he served as the CMO. He serves on the board of directors of Hostess Brands.
Annie Young-Scrivner, CEO of Wella Company, said:
As we pursue our goal of unlocking the full potential of our brands and our business, we are focused on building upon our strong foundation of sustainable growth, and are pleased to welcome Virginie, Gretchen and Hugh to the leadership team. Their combined experience across global public companies and their consumer, digital and broadbased business transformation expertise will be invaluable to our organization. The diverse perspectives and capabilities they bring to the company will be instrumental to guiding Wella Company's next phase of growth. 
As we continue to manage through the headwinds brought about by the global pandemic, we have delivered strong first fiscal year performance. The professional salon community is rebounding and we could not be more proud of their strength and agility to come back stronger than ever. Looking ahead, we feel confident that we're well positioned across our big bets: product innovation pipeline, significant investment in digital, and reaching more customers and consumers across new geographies and channels: retail, e-commerce and professional. With Virginie, Gretchen, Hugh and the rest of our leadership team, we are ready to unleash our ambition to be the best beauty company in the industry.