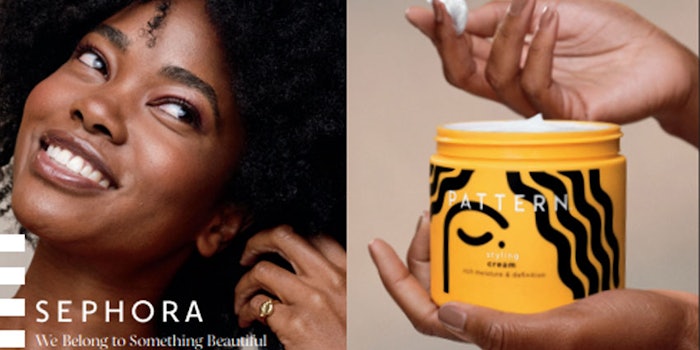 Sephora has unveiled its Black-owned brands campaign "to further recognize and celebrate the contributions that Black culture and Black innovators have made to the beauty industry, including the excellent array of products, available for all beauty consumers," according to the company.
The campaign follows the launch earlier this month of a short statement film called "Black Beauty is Beauty" that highlights Black-owned brands and founders.
Sephora also unveiled the following initiatives to support its ongoing diversity, equity and inclusion commitments:
Sephora Favorites Kit: Sephora will launch a Sephora Black-Owned Brands Favorites Kit, with proceeds going to the 15 Percent Pledge. Participating brands include, adwoa beauty, Bread Beauty Supply, Briogeo, Fenty Beauty, Fenty Skin, Pat McGrath Labs and Shani Darden Skin Care.
Sephora Accelerate 2022: Applications are open for Sephora Accelerate 2022. This program creates a foundation, network and ecosystem for brands to launch and thrive, and will continue to focus on BIPOC-founded and owned brands as part of Sephora's commitment to increasing BIPOC representation in its assortment. 
Black Beauty is Beauty Statement Film: Sephora recently produced the "Black Beauty is Beauty" statement short film to shine a light on the under-recognized contributions of Black influence on the beauty industry. 
Sephora Color IQ: Sephora will unveil its new Sephora Color iQ foundation matching service in store, which will feature new AI technology, to provide a best-in-class experience for all clients to find their best foundation match. Sephora's Color iQ provides customers with a dataset of more than 10,000 skin tones, suitable across all shade ranges.
Priya Venkatesh, senior VP of merchandising, at Sephora, said: "Many of the tools, techniques, iconic looks and trends in beauty exist because of the Black community, driven by Black beauty needs and innovation. However, these contributions have historically been underrecognized or for most, unknown. At Sephora, we want to help move the conversation forward, bringing awareness and education surrounding the impact of Black beauty in our daily lives. This campaign spotlights our Black-owned brands, championing the excellence and efficacy of their innovative products, for all Sephora beauty shoppers. Through this campaign, we aim to make beauty a more welcoming, supportive, and collaborative space, for all."