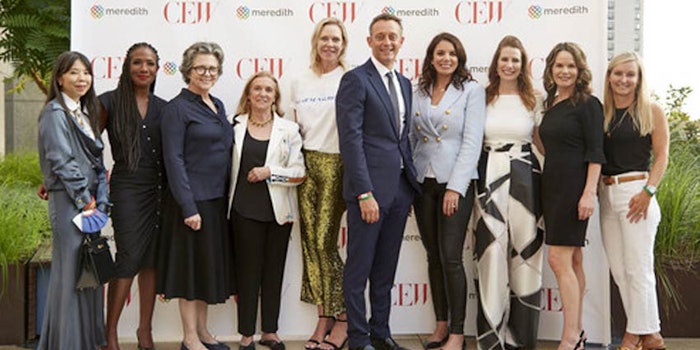 Cosmetic Executive Women (CEW) is celebrating the leading women in the beauty industry at the 2021 Women's Leadership Awards. The event features awards honoring the most accomplished female executives and emerging next-generation leaders.
Related: CEW's Top Talent Awards Praise Female Leaders
CEW awarded the lifetime achievement award to Madonna Badger, the founder and CEO of Badger & Winters.
Stéphane Rinderknech, president and CEO of L'Oréal USA, is the recipient of the Corporate Empowerment for Women Award.
CEW president Carlotta Jacobson says, "For over 70 years, CEW has helped to inspire women in the beauty industry to achieve – while also reinforcing the importance of recognition and opportunity for female leadership. Without women, this business would not exist, and it is now more important than ever to reinforce the valuable contributions of female leaders. We are thrilled to host this event, honoring the amazing women who embody a passion for the beauty industry and its broader mission of empowering and enhancing people's lives."
2021 Women's Leadership Awards:
Corporate Empowerment for Women (C.E.W.) Award
Stéphane Rinderknech, President and CEO, L'Oréal USA
Lifetime Achievement Award
Madonna Badger, Founder and CEO, Badger & Winters
2021 Achiever Awards Honorees
Monica Arnuado, CMO, Ulta Beauty
Gail Boyé, SVP, Product Development, bareMinerals and Corporate Innovation and Commercialization, Shiseido
Lela Coffey, VP, N.A. Hair Care Multi-Cultural Beauty, P&G Beauty
Cara Sabin, CEO, Sundial Brands
Lisa Sequino, Cosmetic Executive
Holly Thaggard, Founder, Supergoop!
JuE Wong, CEO, Olaplex
2021 Emerging Leaders Honorees
Muffy Clince, Director of Emerging Brands, Ulta Beauty
Monique Davis, Vice President, Local & Cultural Innovation, Estée Lauder Companies
Erin Goldson, Brand Leader, Dove Masterbrand Engagement and Hair Innovation, Unilever
Cara Kamenev, VP of Brand Engagement, L'Oréal Paris
Linette Kim, VP Consumer Engagement, Bliss
Ashley Kuhn, Ph.D., Director, Responsible Sourcing, Global Beauty Purchases, P&G Beauty
Jennifer Lucchese, VP, Merchandising Haircare, Sephora