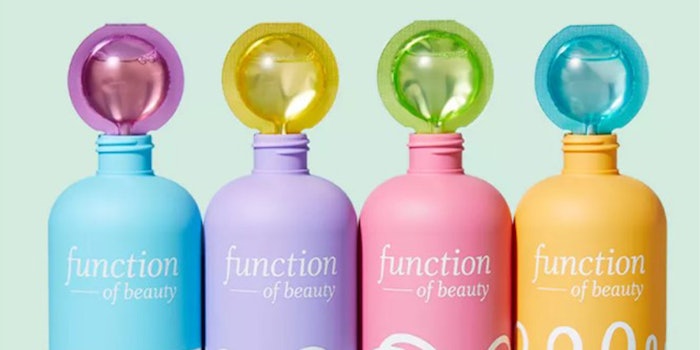 Function of Beauty has named Alexandra Papazian as CEO, succeeding Zahir Dossa, co-founder of the brand.
Papazian will be responsible for accelerating Function of Beauty's global growth, driving product innovation, expanding into new channels and markets, and continuing to build on the brand's customized manufacturing capabilities.
Event alert: The Future of Personalization for Beauty & Wellness
Dossa will remain on the board as executive chairman.
Papazian brings more than 20 years of experience building and growing global beauty brands for L'Oreal, including Giorgio Armani, Yves Saint Laurent, Ralph Lauren, Shu Uemura, Viktor and Rolf, and Maison Margiela. 
Most recently, Papazian served as the global president for Laura Mercier.
Dossa said: "Function of Beauty continues to experience rapid growth. In the past year alone, we have launched products in two new categories, expanded into brick and mortar through our partnership with Target, and completed our acquisition of Atolla. As we look to build on our momentum and move even further into personalization, we are confident that now is the right time to transition to the next generation of leadership. We are excited to benefit from Alex's deep experience building leading global beauty brands as Function of Beauty prepares for the next phase of expansion. I look forward to working with Alex and the rest of our leadership team as we continue delivering the best personalized hair, skin and body care products to consumers globally."
Papazian said: "I am thrilled to be joining the Function of Beauty team. Function of Beauty is a true industry pioneer and the level of precision and sophistication at which the company uniquely formulates and customizes each product is nothing like I've ever seen in the industry.  We have significant opportunities ahead to leverage Function of Beauty's unparalleled, state-of-the-art technology, software, and production capabilities to continue the company's growth. Function of Beauty has an extremely talented team, and I'm excited to enter a new chapter of growth as we advance the company's mission of making personalization the new norm."