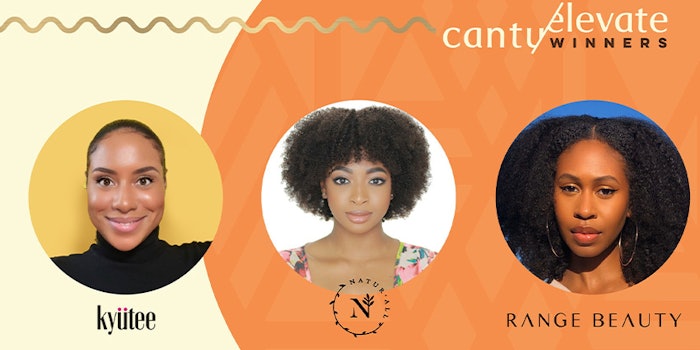 Cantu Elevate, an initiative from Cantu Beauty and "25 Black Women In Beauty," has announced the winners of the 2021 beauty business accelerator: Alicia Scott of Range Beauty, Arah Sims of Kyutee Nails, and Tomi Alisha of NaturAll Club. 
Related: 2020 Clean Beauty Award Winners
Each winner participated in the Cantu Elevate workshop series in fall 2020 and was chosen out of more than 60 women-led beauty businesses to receive a Cantu-sponsored campaign valued at $160,000.
Cantu Beauty will team up with The Sasha Group and Reddish to work directly with each winner to continue the journey of strengthening their brand by helping to build a brand marketing campaign or e-commerce presence for each beauty brand set to launch in spring 2021.
Sims, Alisha, and Scott will focus specifically on their business challenges to take their brand to new heights in the beauty space.
Sims plans to leverage this opportunity to present Kyutee Nails as an innovative brand that fuses beauty with a purpose and hopes to revitalizes its e-commerce strategy.
NaturAll is seeking to only using fresh, frozen, natural, and non-toxic ingredients to hand-make healthy hair formulas while Range Beauty focuses on clean products for the forgotten shades, utilizing botanicals in makeup to create formulas for acne and eczema-prone skin. 
Both brands are looking to learn how to manage a successful marketing campaign using the latest measurement tools to compare its metrics against other start-up competitors.
Dametria Mustin, vice president of global marketing at Cantu Beauty said, "With black entrepreneurs, especially women, starting businesses at a higher rate we wanted to provide a catalyst for these businesses to succeed. After learning more about these amazing women-led businesses, I'm inspired by what they were able to take away from the experience to help navigate the shifts taking place in the beauty industry."
Alicia Scott of Range Beauty said, "The workshops were a great reminder to always tap back into our why and who. My favorite part of the workshops was actually our homework after the first session. Writing out my North Star and thinking through my audience in more detail helped me think about our marketing efforts in a more targeted way."