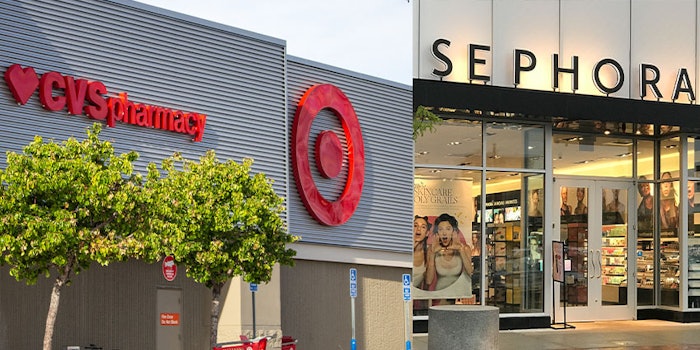 Revolution Beauty has announced its expansion into United States mass retailer, CVS Pharmacy. Other brand expansions include Mented Cosmetics, which is now sold at Target, and Westman Atelier, which has landed at Sephora.
Related: Fenty Skin Expands into Retail
Revolution Beauty has been exclusively sold at Ulta Beauty until now. At CVS it will be seen on elevated endcaps in select CVS Pharmacy locations.
Revolution Beauty flagship brands will be included in the retail expansion in a concept that integrates both skin care and cosmetic categories.
Mented Cosmetics is now sold at Target. The brand offers numerous lip products at the retailer, including its lip gloss, semi-matte lipstick and lip liner in a range of nudes and berries.
Westman Atelier is now available at Sephora, online only. The brand has released eight makeup brushes as well as blush, contour, highlight and foundation sticks, powder bronzer, cream highlight, mascara, eyeshadow pods, and a lip suede compact. 
Revolution Beauty founder Adam Minto said, "Developing an increasing presence within the U.S. market has been a goal of Revolution Beauty since our entry into the United States. We are excited to cultivate a new relationship with CVS Pharmacy while sustaining our current partnership with Ulta Beauty, which we have cherished over the years. With our launch, we are additionally excited to bring a new merchandising outlook to life as all the Revolution Beauty brands will live together in one accessible and shoppable location, CVS Pharmacy."