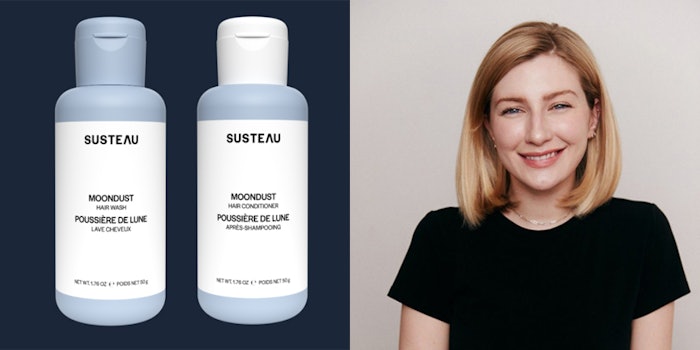 Waterless beauty brand OWA Haircare has relaunched its brand as Susteau, alongside the launch of its new powder-to-liquid Moondust Hair Conditioner.
Related: Inflexion Invests in Pangaea Laboratories, Owner of Medik8
Susteau's line of waterless products activate with water, converting into a liquid product.
As a part of the relaunch, Susteau has launched Moondust Hair Conditioner, the counterpart to its Moondust Hair Wash, a patent-pending, powder-to-lather shampoo.
Moondust Hair Conditioner is a powder-to-liquid formula that transforms to a creamy conditioner in a matter of seconds. The conditioner features ingredients including plant-based rice protein, aloe vera, shea butter and squalane.
As a part of the brand's commitment to sustainability, Susteau will launch with custom-designed packaging that has been developed specifically for its powder formulas, delivering the product more effectively to the consumer with less waste.
The brand has chosen to use ocean-bound recycled plastic for its bottles. In addition to using post-consumer waste for its shipping boxes, Susteau is also eliminating its secondary packaging for a majority of its e-commerce business. 
Global Cosmetic Industry recently interviewed Kailey Bradt, Susteau founder and CEO.
What was behind the decision to rebrand?
Kailey Bradt [KB]: The name "OWA Haircare" limited us to hair care and we see Susteau going beyond hair to become a global lifestyle brand offering clean, conscious, concentrated alternatives to mostly water personal care products.
Susteau, pronounced sust-oh, combines "sustainability" and "eau" (the French word for water). The brand name encompasses our sustainable approach to water as it relates to beauty, using little to absolutely none at all. 
What's the significance of pairing more sustainable packaging with the brand's water usage story?
[KB]: When developing a product at Susteau, we consider the entire product lifecycle: where the ingredients are sourced, how they are manufactured and delivered, through to what happens after they go down the drain.
While many brands focus on packaging or ingredients or product format, we take on a holistic approach to include many factors of what makes a beauty product sustainable including ingredients, manufacturing, distribution, packaging and disposal.
There are always new innovations coming to market whether it be raw materials or new sustainable packaging components, and we will make sure to continue to evaluate alternatives in order to constantly improve. Design is an iterative process.
What's next for the brand?
[KB]: We have some exciting retail partnership news that we'll be announcing in the coming months, along with two new products that we'll be launching this summer that have never been done in a waterless way before!