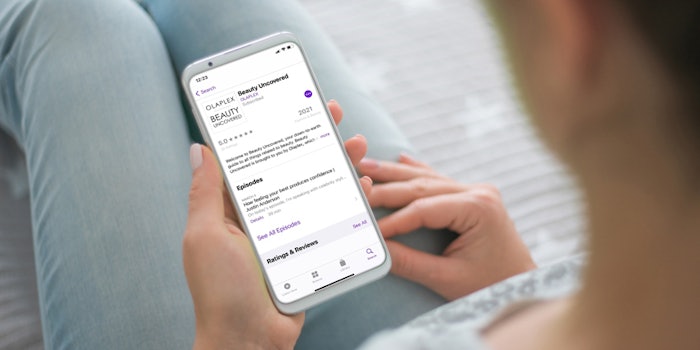 Olaplex has launched a weekly podcast called Beauty Uncovered which focuses on all things related to beauty.
Related: [interview] Quadpack Expands Operations in North America
Upcoming guests include celebrity hair stylists and colorists Tracey Cunningham, Guy Tang and JuE Wong, CEO of Olaplex. 
Available on Apple Podcasts, Beauty Uncovered soft launched its first episode with celebrity stylist, Justin Anderson.
Global Cosmetic Industry recently interviewed Wong about the podcast.
Why a podcast and why now?
Olaplex has the reach and influence in attracting guests in the beauty industry that can help uncover beauty myths, discuss the compelling stories of some of beauty's top brand founders and provide insights into the world of the beauty business.
With over 2 million consumers in our social media community alone, we've learned that they are really interested in what goes on behind the scenes. The podcast will be weekly, and it's called Olaplex Beauty Uncovered. New episodes will launch every Monday. It is a down to earth guide to everything beauty available on Apple Podcasts.
What have you found to be the most effective tools for customer engagement during the pandemic?
We have found tapping into Google analytics and what consumers are searching for has helped us continue to be relevant and allows us long term engagement value with our customers.
For instance, customers are searching for content on how to cut their bangs, how to fix damaged hair and even how to fix burnt hair, etc. Content is king and providing content that resonates with consumers like we do is always an effective customer engagement tool.
The success of the No. 0 treatment has highlighted the at-home beauty needs of consumers. How else are you addressing these behavior changes (product launches, programs, etc.)?
The trend of at-home beauty and self-care will continue to resonate with customers even after the pandemic because there is an increased feeling of health and well-being.
In response to this, we will continue to provide programs and products that can cross over for at home use like our blockbuster No 3 Hair Perfector and highly successful No 0 Intensive Bond Building Treatment.
We are creating products that consumers can use before they see their professional hair stylist so that they walk into the salon with already healthy hair and can achieve the best results from their professional salon service.
We have a new at-home product launching early next month that will help with this. We will continue to empower customers with knowledge so that they can be better informed about our scientifically proven formulas and product regimens.