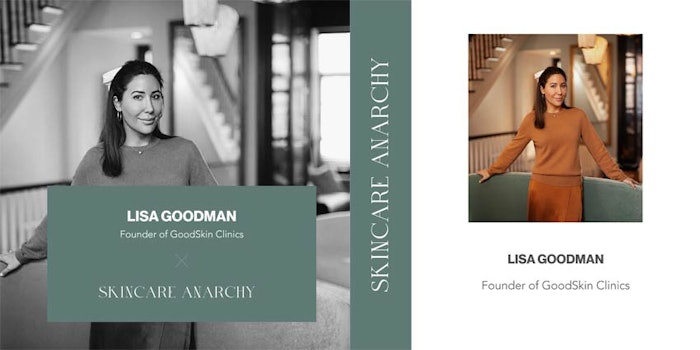 Lisa Goodman, PA, founder of GoodSkin Clinics, is the latest guest on Skincare Anarchy, a beauty podcast hosted by Ekta and available on Spotify and Apple podcasts. GoodSkin reportedly offers European-style healthy aging services such as Botox, injectables, tacking lifts, blanching, calcium jowel lifts, fillers, peels, etc.
Speaking of her inspiration for entering the industry, Goodman says, "My mother had vitiligo, which is basically when your immune cells attack your pigment cells, and that's like wearing your disease on your skin all the time...that was my motivation."
She continues, "I saw the mental impact of that and decided to get into dermatology ... and at that time Botox was only a thing celebrities did ... I had a real moment where I realized that, wow, if you can help people with their skin, you can help them feel better about themselves."
Goodman concludes, "If you are known for the quality of your work, you don't get a day off. And I'm happy to meet that standard."
Meanwhile, Ekta also probes Goodman for answers to key questions, like:
"What's your advice for young men and women out there that may want to do dermatology but don't feel like going the MD route?"
"How much should we put into the hands of a consumer when it comes to something like injectables?"
"Where is the line between skin care and professional med spa work?"
"What age is it 'OK' for someone to get Botox?"
Past guests on Skincare Anarchy include founders of The Inkey List, lilah b., Milk Makeup and more.