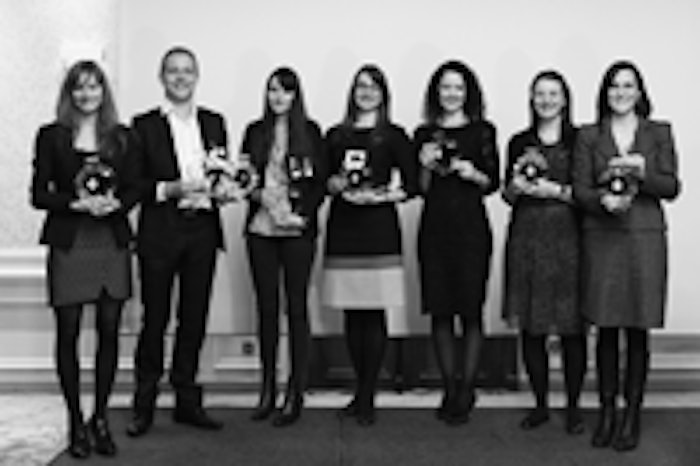 Holding its event for the very first time, the Beauty 2.0 Awards announced its winners and honored digital efforts in the beauty industry. The awards allowed consumers to choose the winners, nominating and voting for the most inspiring cosmetics, personal care brands and retailers in digital marketing. The event was held at the Paris Marriott Ambassador Opera Hotel on November 12, 2013, and included an international audience with attendees from the U.S., France, Sweden, Switzerland, the U.K., Germany and Austria. Beauty executives heard keynote speeches given by Steffen Seifarth, regional VP of DACH and Eastern Europe, Coty Prestige; Elizabeth Fagan, marketing director with Boots; and Nicole Ostoya CEO, president and director of Boldface. The event also included inspirational sessions by professional storyteller Lisa Lipkin of StoryStrategies and Sean MacNiven of SAP, who introduced "fungineering," maximizing fun and playful customer engagement.
The Beauty 2.0 Awards was created to benchmark the companies who are most successful in connecting with consumers through digital technology. Six months ago, innoCos events selected 10 of the most popular digital marketing platforms and asked both consumers and brands to place nominations. More than300 award entries were received. With much deliberation and critical review, the awards' judges selected the top five brands from each of the 10 categories. After collecting the results, the program allowed consumers a month to vote for their favorite beauty brand online. Over 15,000 consumers voted and below are the results with the winners highlighted:
Best Beauty Blog
Best Blog by a Beauty Brand
Best Online Video
Best Mobile App
Best Facebook
Best Pinterest
Best Twitter
Best Website
Best e-Commerce Website
Best Beauty Brand Online
Mary Kay customers proved to be the most active in voting for their brand, their involvement showed the power of their network and followers. And Sephora brought home the most trophies, winning 3 categories out of 10.
"The Beauty 2.0 Awards is an opportunity for the Beauty Industry to see which brands are staying closely in touch with their customers" said Irina Kremin, managing director of innoCos events. "Those companies who participated turned to their customers and asked for their support, and the results were overwhelming! In the end the winning brands had tightened the connection with their customers who are both now celebrating their win."