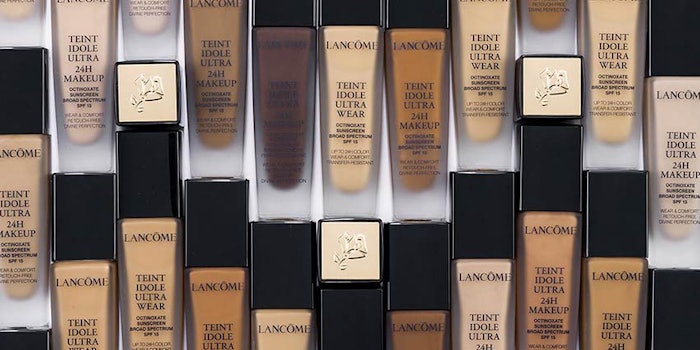 The French—known for their love of an understatement—might say L'Oréal's 2018 was pas mal: The beauty giant posted its best year of growth in more than a decade.
Sales were reported at €26.9 billion, up 7.1% on a like-for-like basis.
"More than ever, it's the strength of L'Oréal's business model, robust and well-balanced, covering all circuits, all categories, all price points and addressing all consumers, that enables the group to seize opportunities wherever they are," said Jean-Paul Agon, chairman and CEO. "All over the world, our teams are alert and listening to consumers' needs and desires. They adapt and allocate resources with great agility, always in the pursuit of excellence. This is how L'Oréal delivers profitable and sustainable growth, and strengthens its position as the cosmetics market leader year after year."
Professional Products
FY: Sales increased 2% to €3,262.5 million
Q4: Sales, at €857.2 million, increased 3.5%
The division welcomed "renewed dynamism" which accelerated during Q4; all geographic zones, except for Western Europe, saw growth.
Kerastase's Resistance Extentioniste and Fusio-Dose customized in-salon hair care proved successful, as did the roll-out of its selective multi-channel strategy. Hair color was driven by Shades EQ by Redken, SoColor Cult (a new launch from Matrix), and Dia by L'Oréal Professionnel.
FY: Sales, at €12,032.2 million, were up 2.5%
Q4: Sales increased 2.8%, to €3,041.7 million
The division's three major brands—L'Oreal Paris, Maybelline New York, and Garnier—all saw growth, with Garnier accelerating in the fourth quarter and L'Oreal Paris and Maybelline New York maintaining annual momentum.
Within skin care, facial skin care grew double-digits worldwide, led by Revitalift Filler by L'Oreal Paris, Garnier tissue masks and Men Expert skin care. Makeup growth was driven by Maybelline New York, and hair care welcomed two successful launches: Elseve Dream Lengths and Fructis Hair Food.
Though difficulties remain in Western Europe and Brazil, in the United States, Eastern Europe and Asia (particularly China and India) the division won market share. E-commerce continued to show strong growth.
L'Oréal Luxe
FY:  Sales increased 14.4% to €9,367.2 million
Q4: Sales were reported at €2,651.5 million, up 14.7%
The division's four billionaire brands posted double-digit growth. Lancôme alone surpassed sales of $3 billion. The brand was driven by skin care performance and the success of the La Vie est Belle Fragrance.
Yves Saint Laurent and Giorgio Armani had strong years for fragrance and foundation. Kiehl's benefited from the acceleration in skin care. IT Cosmetics and Atelier Cologne continue to develop.
L'Oréal Luxe won market share in Asia-Pacific, particularly in China, which saw double-digit growth. The division performed well in travel retail, Eastern Europe, Latin America and e-commerce, though Western Europe and Africa/Middle East were more challenging.
Active Cosmetics
FY: Sales, at €2,275.5 million, increased 11.9%
Q4: Sales increased 11.9%, to €523 million
All brands contributed to growth, as La Roche-Posay ended the year with a double-digit increase and strong performance across all zones. Vichy's growth was bolstered by the success of Minéral 89, "the star product of 2018."
SkinCeuticals posted "very strong" growth, and CeraVe—which reported double-digit growth in North America—rolled out in more than 30 countries.  
Market share was gained across all geographic zones "at a rapid pace," with North America and Asia cited as standouts.
Into 2019
Said Agon: "In an economic context that remains volatile and uncertain, we are confident, thanks to our innovations, powerful brands, digital excellence and in particular our outstanding teams all over the world, that we can pursue our corporate social responsibility commitments, outperform the beauty market in 2019 and achieve another year of growth in both sales and profits."