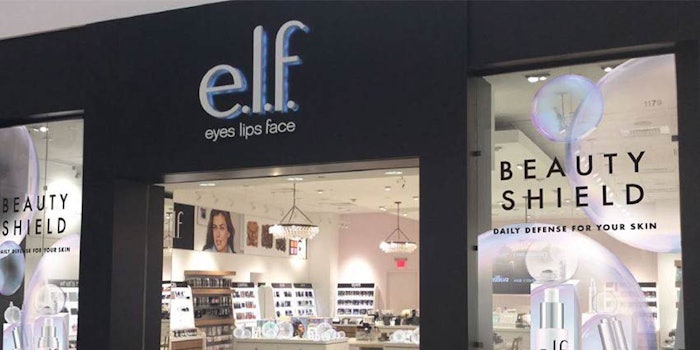 After a challenging last few months, e.l.f Beauty has announced its Q4 and FY 2018 financial results.
"2018 was a challenging year with net sales of $267 million, down one percent from last year, driven by headwinds in tracked channels. Despite this, we improved our overall margin profile and delivered strong operating cash flow. We also made significant progress on initiatives that we believe will better position e.l.f. in the rapidly evolving mass beauty landscape," said chairman and CEO Tarang Amin.
For the three months ending December 31, 2018, the company saw net sales of $78.6 million, a 4% decrease they attributed to declining trends at select national retailers, a decline in holiday program sales and lower pipeline shipments compared to the previous year.
Related: e.l.f. Releases Q3, First Nine Months 2018 Sales
"Going forward, we will be laser-focused on reasserting e.l.f.'s core advantage to delight beauty enthusiasts with prestige-quality cosmetics and skin care at an extraordinary value," continued Amin. "We intend to do this by driving demand in our brand, focusing on key, first-to-mass products, getting the right assortment and placement on-shelf and on-line and generating the cost savings to help pay for these investments."
Goodbye to Brick-and-Mortar…
The company also announced that it is closing all 22 of its e.l.f. stores, which contributed 5% to 2018 net sales. The move will enable the reallocation of investment against the e.l.f. brand, and prioritization of national retailer and digital channels. In an email to customers, chief commercial officer Rich Baruch stated: "This was an extremely difficult decision given the talent, passion and dedication of our store associates, and we are so grateful for their service over the last few years."
… and to the President and CFO
President and chief financial officer John Bailey will be stepping down from his role at the company effective March 31, 2019. A national search firm seeks a new CFO; Bailey's responsibilities as president will be absorbed by Amin and members of the executive team.
"John has been a terrific strategic partner to me and the entire executive team from inception through the IPO and to this stage in the Company's journey," said Amin. "I thank him for his service and wish him the very best as he returns to the investment world."
"While it is a bittersweet decision to be leaving e.l.f., as the brand transitions, I am comforted by the strong talent that exists in and continues to be added to the Company," Bailey added.