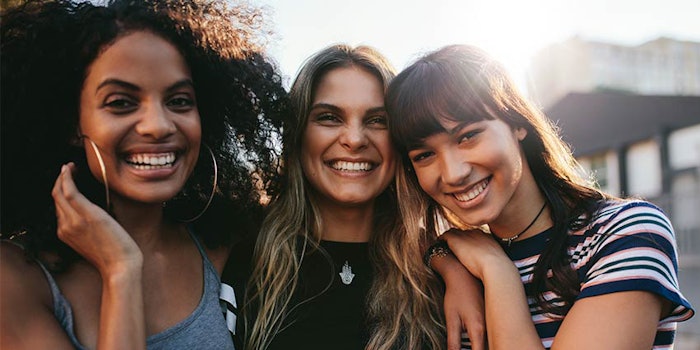 In a year with no shortage of personal care brands getting political, MAC and Benefit are joining the fold—the beauty brands show their support for Planned Parenthood.
"This is not an arranged partnership between our competing beauty brands, but in fact a welcome coincidence," John Demsey, chairman, The MAC AIDS FUND and executive group president, The Estée Lauder Companies, told Forbes, which reported the news. "The partnership between Planned Parenthood, MAC and Benefit transcends beyond our brands' businesses and contributes to the greater goal of supporting healthy futures and rights for women and girls and LGBTQ communities."
Every penny of the selling price of MAC VIVA GLAM lipsticks will go towards Planned Parenthood, specifically the organization's chat/text program and sexual health robot Roo, according to a report in Forbes. (VIVA GLAM, which donates its proceeds to the fight against HIV/AIDS, is celebrating its 25th anniversary in 2019.) Since 2008, the brand has donated $1.6 million to the nonprofit.
MAC is no stranger to activism—the beauty brand established its AIDS Fund charity in 1994, and has been a vocal supporter of annual Pride celebrations around the world.
Related: The Dangers of Mixing Beauty and Politics
"The fight to end HIV/AIDS remains at the core of what we do, but treating and ending HIV/AIDS is a multi-faceted, intersectional endeavor. MAC believes ending stigma is one of the first steps to eradicating HIV/AIDS and other infections that disproportionately affect women, people of color and LGBTQ," said Demsey. "We are thrilled to continue our support of Planned Parenthood since 2008 because their mission of providing people of all ages the information and care they need so they can live their best, healthiest lives is a huge step in ending the stigma those communities feel."
Benefit will be donating to Planned Parenthood at large, encouraging the organization to use the donations "wherever they are most needed." The brand, which gives 100% of its brow wax proceeds to its Bold is Beautiful charity partners annually, will also launch a special-edition Bold is Beauty 3D BROWtones on May 1, which will also benefit Bold is Beautiful.
"One in five women will rely on Planned Parenthood at some point in her lifetime," said Benefit chief beauty ambassador Annie Ford Danielson. "I think that really says it all. Our goal with the Bold is Beautiful Project is to help women and girls achieve their fullest potential, and access to healthcare and education is unequivocally part of that."