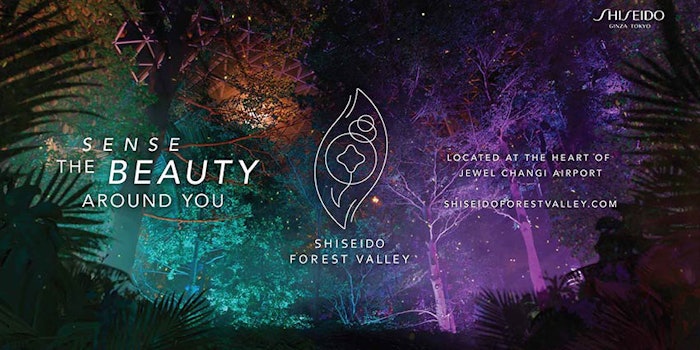 Shiseido has opened the Shiseido Forest Valley, a lifestyle destination located in Singapore's Jewel Changi Airport.
Measuring at 22,000 square meters spanning four stories, the project is one of Singapore's largest indoor gardens—including more than 900 tress and approximately 60,000 shrubs.
Related: Shiseido Opens Life Quality Beauty Center in Singapore
Among the features: the interactive SENSE art installation, a collaboration between Shiseido and teamLab, a Tokyo-based interdisciplinary group of technologists. The installation engages visitors' senses through:
Sight—Autonomous lights that "dance and flicker"
Sound—Music created by composer and sound artist Yota Morimoto to recreate the sound of a forest
Scent—Ultimune, a scent created by Shiseido senior fragrance design researcher Tomonori Ueda, Ph.D., wafts through the air, calibrated to calm and relieve stress
Touch—The Forest Valley Experience app allows visitors to "interact with their surroundings"
The Shiseido Forest Valley is open daily; admission is free.