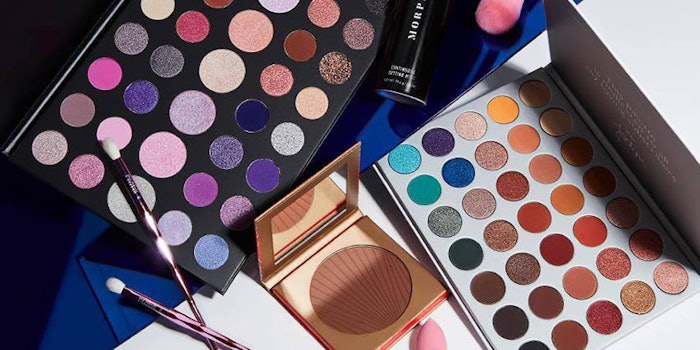 Morphe Holdings and global growth equity firm General Atlantic have announced a partnership and strategic growth investment.
General Atlantic has acquired a majority stake in the company alongside existing investor Summit Partners and Morphe Holdings co-founders Chris and Linda Tawil. Additional terms have not been disclosed.
Founded in 2008 as a professional makeup brush company, influencer-favorite Morphe has expanded its category mix to include differentiated offerings that are popular with digitally-focused consumers.
General Atlantic plans on building on this momentum by acting as a strategic partner, fueling the Morphe brand's continued global expansion. The investment will accelerate the company's next phase of growth.
This marks the equity firm's third significant beauty and beauty service investment in the past four years; they include Too Faced (the firm sold its stake to Estée Lauder in 2016) and European Wax Center, in which the firm invested in 2018.
"With its experience in partnering with founder-led brands, General Atlantic will enable us to leverage additional resources and expertise for founders in the future as we seek to grow our portfolio and help next-generation beauty brands rapidly scale their businesses," said Morphe Holdings CEO Myles McCormick.
Morphe Holdings' existing management team, led by CEO Myles McCormick, will remain in their positions; General Atlantic's Andrew Crawford (managing director and global head, consumer sector) and Andrew Ferrer (managing director, beauty investing) will join the board of investors alongside Summit Partners. The Tawils will remain on the board and "heavily involved" with the brand, and all existing Morphe Holdings shareholders will retain ownership in the company.
"We are proud of what we have achieved through the success of Morphe Holdings and our marquee brand Morphe," said McCormick. "General Atlantic's investment will position us for our next phase of growth as we continue to grow Morphe and expand to develop a new global platform with a portfolio of next-generation beauty brands."
He continued: "With its experience in partnering with founder-led brands, General Atlantic will enable us to leverage additional resources and expertise for founders in the future as we seek to grow our portfolio and help next-generation beauty brands rapidly scale their businesses."
"Morphe Holdings, underpinned by the strength of the Morphe brand, has developed a unique approach that truly resonates with its customer base," added Crawford. "We see considerable opportunity to leverage this approach into creating a differentiated portfolio of brands and scaling it across channels, geographies and categories."