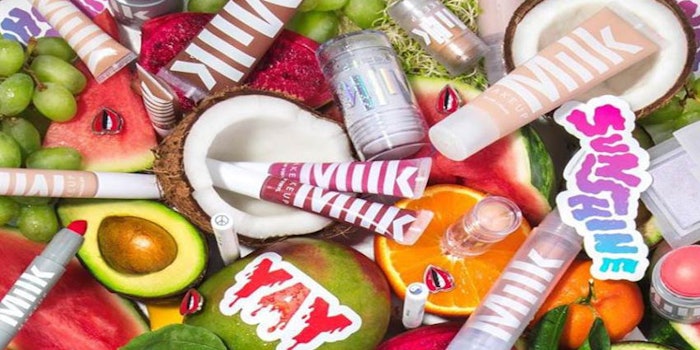 Milk Makeup, the skin care and makeup division of Milk Group, has announced beauty conglomerate Amorepacific Group is joining Main Post Partners and Alliance Consumer Growth as its newest investor.  The strategic partnership with the Seoul-based Amorepacific Group as a minority shareholder will help forge a path for the Milk Makeup as it enters the South Korean marketplace.
The brand, which was founded in 2015 by Mazdack Rassi, Dianna Ruth, Georgie Greville, and Zanna Roberts Rassi, quickly became a cult-favorite for its clean ingredients and innovative formulas. Offering over 80 products, Milk Makeup delivers cruelty-free, paraben-free, 100% vegan formulas developed in-house at Milk Studios in downtown New York.
Its products are available at exclusive retailers like Sephora in the United States, Canada, Spain, Germany, Denmark and Sweden, as well as Cult Beauty in the United Kingdom. Milk Makeup is also available in the United States through its ecommerce site, www.milkmakeup.com.
As part of the Milk Group, which was founded in 1998 with the opening of its photography studio Milk Studios, Milk Makeup is inspired by the Milk community and sees personal style and experimentation as the ultimate form of self-expression.
"The South Korean beauty market is highly competitive and incredibly innovative, so we are thrilled to have Amorepacific's help to ensure our success in this important beauty space," said Mazdack Rassi, CEO and co-founder of Milk Makeup. "This strategic partnership will allow us to benefit from Amorepacific's significant expertise and resources. And in true partnership, Milk Makeup will share the strategies that have made it one of the [fastest] growing color brands in the [United States]."
"We were impressed by Amorepacific's track record of internally starting and growing beauty brands," said Milk Makeup chairman Scott Sassa, who led the process to put the partnership together. "This shared belief in building brands designed to last for decades was central to establishing this relationship."
"Milk Makeup is sought after by beauty enthusiasts for its innovative formulas and clean ingredients," said Amorepacific Group president Bae Dong-hyun. "Through this partnership, Amorepacific will provide full support for its entrance into the Korean market and others in the future."