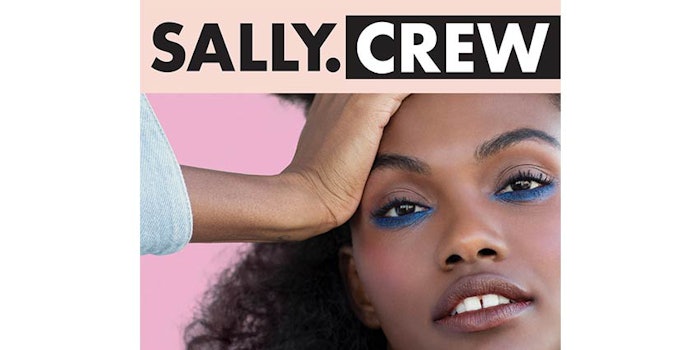 Sally Beauty has announced it's started its search for the first #SallyCrew, an official partnership being offered to influencers for the opportunity to serve as Sally Beauty brand ambassadors. Five inaugural #SallyCrew members will be revealed in May 2020.
Previously: Sally Beauty Launches SBH Going Green Program
The program aligns with the company's brand relaunch, which features the new motto, "Unleash Your PROtential" and is targeted toward boosting consumer confidence, building trusting relationships and inspiring consumers to take beauty into their own hands.
The brand is seeking influencer submissions from the United States, Canada and Puerto Rico from beauty enthusiasts who are passionate about hair color, hair care, textured hair care, cosmetics and nails.
Influencers selected to join the #SallyCrew will receive a one-year, paid contract of up to $150,000, in addition to professional business coaching, spokesperson opportunities with the brand and access to exclusive products and brand events. Ideal candidates embody the new motto and empower others by sharing their tips, encouraging self-expression and building strong relationships with other beauty enthusiasts.
The program will take place in four phases:
Influencers can apply online now through Jan. 31.
Between February 17 and March 13, applicants will submit a video on Instagram sharing why they'd be an awesome Sally Crew influencer, using #SallyCrew and #SallyBeauty to gain support and shout-outs from their followers.
Up to 25 semi-finalists will promote special category products on their social platforms to showcase how they share expert beauty tips with their followers. Fans will be able to support their favorite semi-finalists by voting and shopping their curated product picks. Voting will be open April 13 to May 8.
By May 29, the five inaugural members of the #SallyCrew will be announced.
"Sally Beauty has always enjoyed collaborating with influencers to help educate and empower beauty enthusiasts," said Carolyne Guss, group vice president of marketing at Sally Beauty. "As we continue our transformation, we're excited to establish the #SallyCrew to reinforce our commitment to helping our customers discover quality products to Unleash their PROtential. I am especially pleased to announce we've extended the invitation to our very own Sally Beauty associates."
"The new Sally Beauty is all about giving our customers the confidence to shine by unlocking the 'power of pro' at home," said Aaron Alt, president of Sally Beauty. "With our professional-grade products, Sally Beauty empowers the everyday beauty-lover to take their skills to the next level. We can't wait to meet our new ambassadors, who will help us share our revamped, pro-philosophy on an even greater scale."