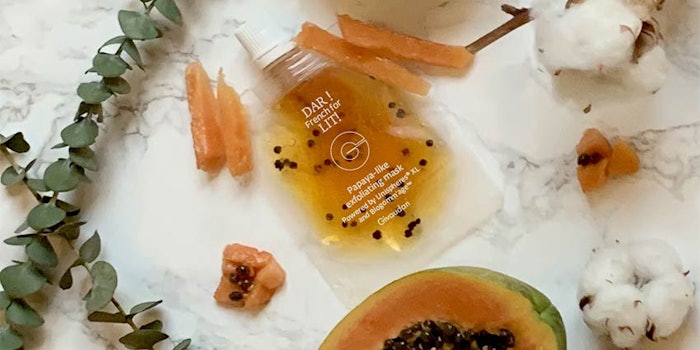 Givaudan Active Beauty has launched Sensory Crush, a collection of three naturally colored face masks targeted toward the "skintellectual" Gen Z.
Briefing: 3 Ways to Engage Skintellectuals
Launched at Cosmet'Agora in Paris, Sensory Crush combines the world of naturals and innovation to address the beauty expectations of the trendsetting generation, who represent more than 40% of global consumers.
According to Mintel, 65% of Gen Z consumers think that being beautiful is mostly about being confident and 48% think it's about expressing yourself. Gen Z has already redefined beauty by making it more emotional.
Gen Z is self educated in sustainability and evaluates products they use to ensure they're good for them, for others and for the environment. This topic is essential to the generation, with 49% agreeing they always search for natural products.
DAR! – French for LIT!
This exfoliating mask (powered by Biogomm'age) has purifying (leveraging rutin, an active molecule extracted from Sophora japonica), regenerative (using a natural extract of papaya) and detoxifying (via activated carbon) properties. To mimic papaya's appearance, two dyes have been mixed, the beta-carotene of Dunaliella algae (Orange-WD-L) and carmine red (Red-WS-P). This papaya-like formula transforms from orange to black, as the activity of the charcoal beads is released during scrubbing.
OKLM – French for CHILLAX
This night mask has anti-oxidant properties (via a natural extract of yuzu), allowing it to calm and moisturize (due to the use of Yogurtene Balance) the skin gently. Upon application, its refreshing effect soothes all tensions felt during the day. To obtain a creamy and smooth yellow, Dunaliella natural dye (Orange-WD-L) was used.
EN BOMBE! – French for ON FLEAK!
This mask restores the energy and vitality (via a natural extract of dragon fruit) of the skin. Its honey texture becomes milky when massaged with water on the face. After rinsing, it eradicates stress (due to the Neurophroline active botanical extract of Tephrosia purpera traditionally used in Ayurvedic medicine) and gives a luminous effect to the skin. Echoing the dragon fruit, the color of this mask was obtained through anthocyanins (Red-OD-P), a natural dye found in leaves, petals and fruits.
"A blend of innovative packaging, sensorial textures and energizing fragrances makes these masks a perfect mix of naturalness and efficacy," Pauline Martin, global communications and events manager, said. "We offer the Gen Z a collection with names that speak to them. DAR! (French for LIT!), used to express terrific moments, OKLM (French for CHILLAX), the slow pace and EN BOMBE! (French for ON FLEAK!) the gorgeousness."