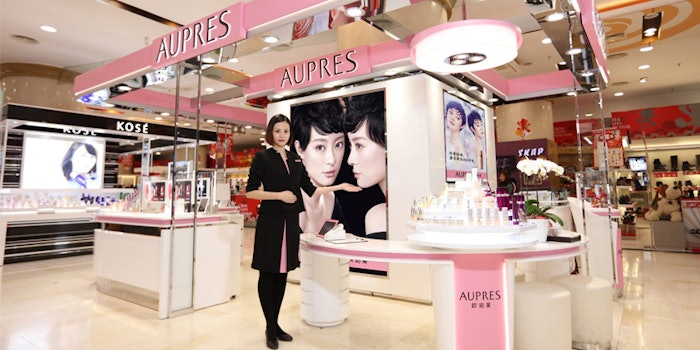 Shiseido Group announces the renewal of the Aupres line of products beginning March 2017. The renewal will align products by function to include "nurturing skin," "restoring skin" and "beautifying skin."
Nurturing skin
Skin care products include cleansers, essences, lotions and emulsions that revitalize the skin circulation. The items are developed according to skin types and conditions of the T-zone and U-zone.
Restoring skin
Skin care products which support the skin circulation and protect it from damage and offered in two types: Care-type and Guard-type. The items are available depending on skin concerns and needs.
Beautifying skin
Products include foundation and point makeup. The renewal of these products is scheduled for November 2017.
Aupres' Golden Circulation Theory
The exclusively Chinese brand is available at five e-commerce sites, eight boutique stores and 1,123 department stores in China.
The second renewal for the brand since its launch in 1994, the renewal will focus on the brand concept of "Natural Beauty, Starts from Here." The concept was developed based on their "Golden Circulation Theory," in which it is believed that the skin will remain in good condition overall if it keeps its healthy, proper turnover. If the skin circulation deteriorates, various skin troubles may occur. To prevent such cases, Aupres eliminates the causes of deterioration in skin circulation and protects it to maintain stable skin circulation.
Innovation in Storefront Communication
To celebrate the renewal, Aupres stores have been equipped with new sales counters, beauty devices, products and consultation services. The brand also aims to create stores with a more energetic, healthier image through its brand slogan and visuals in advertising. Other updates include:
Changing the layout of sales counter to create a relaxed atmosphere during consultations. The space for trying out products is expanded, and brighter colors and open layout are used in the counter design.
Improving the quality of consultation services. Using a device for a comprehensive skin check depending on the season, a beauty consultant can fully and accurately measure consumers' skin condition and provide appropriate, yet easy-to-understand counseling, helping the consumers appreciate their skin. 
Introducing new uniforms for beauty consultants and makeup artists with a more active and sophisticated design.