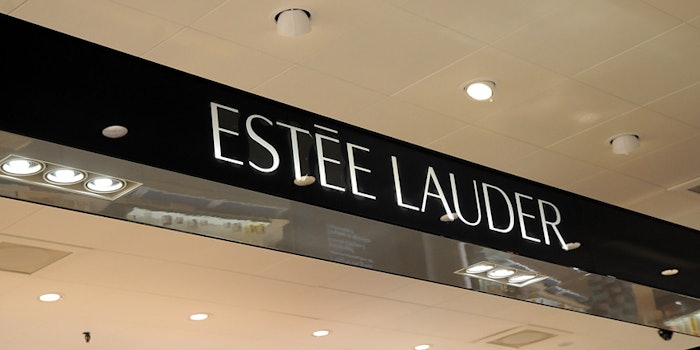 Estée Lauder released its fiscal 2020 results ending June 30 that show a net sales decrease of 4% from $14.86 billion in fiscal 2019 to $14.29 billion, reportedly as a result of retail store closures due to the pandemic, according to the company.
Further reading: BASF and Estée Lauder Give Back with COVID-19 Kits
Net earnings reportedly also dropped from $1.79 billion last year to $0.68 billion. 
According to its fiscal report, the skin care category exceeded sales compared to any other category with a 26% increase in the first half of the fiscal year and a fiscal 2020 gain of 13%. The makeup, fragrance and hair care categories experienced declines ranging between 11% and 17% for the year.
Fourth Quarter Results
Estée Lauder also reported its fourth quarter results which showed a net sales decrease of 32% to $2.43 billion compared from $3.59 billion in the prior year.
The company reported a net loss of $0.46 billion, compared to a gain of $0.16 billion in the prior-year.
In the prior-year period, results included restructuring and other charges and changes in contingent consideration that totaled $105 million, as compared to 2020 results that totaled $334 million. 
Sales Outlook Q1 2021
Reported net sales for the first quarter of 2021 are forecast to decline between 12% and 13% compared to the prior-year period. Estée Lauder's recent acquisition of Dr. Jart+ is expected to contribute approximately 2.5% to the overall sales growth. 
Excluding the impact of the acquisition and 1% negative impact from currency, net sales are forecast to decrease between 14% and 15%.
Cutting Retail & Jobs
In response to shifts in the distribution landscape and consumer behavior caused by the pandemic, Estée Lauder has implemented a Post-COVID Business Acceleration Program has is reportedly a two-year initiative that will help rebalance investments.
Under the plan, Estée Lauder plans to reduce between 1,500 to 2,000 position globally, as well as close 10-15% of its stores globally and department store counters.
The Post-COVID Business Acceleration Program is expected to yield annual sales of $300 to $400 million.
Key actions of the program include:
Realignment of the company's distribution network, reflecting certain department store closures and freestanding store closures while accelerating the shift to online.

Further investment in digital capabilities, omnichannel, talent, and advertising and promotional activities to support continued share improvement and business acceleration. 

Implementing increased confident beauty practices at retail and adoption of new ways of working.