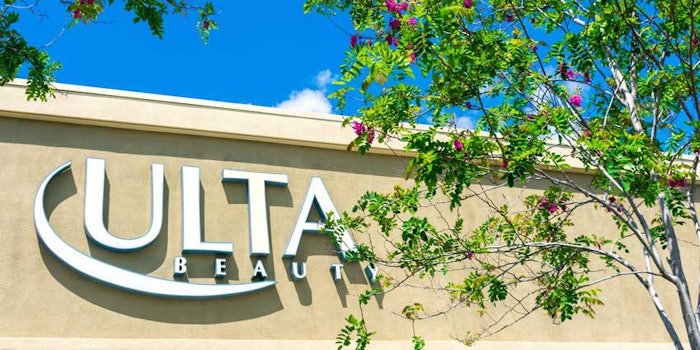 Ulta Beauty announced its second quarter 2020 results that showed a net sales decline of 26.3%, to $1.2 billion, compared to $1.7 billion in the previous year, as a result of COVID-19.
Further reading: Coty Q4 & Full Year 2020 Sales Decline
Gross profits also decreased to $329 million compared to $605.9 million in the previous year.
The company reported a net income of $8.1 million compared to $161.3 million in 2019. Ulta reported it ended the second quarter with $1.2 billion in cash and cash equivalents.
While its brick-and-mortar suffered closures, the e-commerce sales increased more than 200%, the company reports.
Ulta temporarily closed all of its stores in mid-March in response to the spread of the virus. In mid-April, the company offered curbside pickup in select stores and on May 11, it started a phased store reopening process. At the end of June, more than 90% of stores were open for retail. Salon services are available in 88% of stores as of August 1, 2020.
There was a reported 1,264 stores and a square footage of 13,294,607, representing a 4.2% increase in square footage compared to second quarter of fiscal year 2019.
In response to the pandemic, Ulta continues to make the following changes to its operations:
Reopening stores with limited capacity to accommodate social distancing, and reduced operating hours
Implementing Shop Safe Standards in all of its stores, including required facial coverings for all guests and associates in stores
Beginning a thoughtful, phased approach to the reopening of its corporate offices, with a commitment to protecting health and safety and to providing associates needed flexibility, all while maintaining a culture of high performance;
Resuming new store openings in August 2020 after a temporary pause
Accelerating the opening of its Jacksonville fast fulfillment facility, increasing order processing capacity in existing distribution centers, and expanding ship-from-store capabilities to an additional 100 stores, all to increase shipping capacity in support of continued strong e-commerce sales
Incurring incremental costs related to COVID-19 of approximately $135 million during the first six months of fiscal 2020
Recorded $48.2 million reduction of selling, general and administrative expenses (SG&A) in the second quarter as a result of the employee retention credits made available under the Coronavirus Aid, Relief and Economic Security Act (CARES Act)
Reducing spending across store payroll, variable store expense, marketing, and corporate overhead expenses.
Mary Dillon, chief executive officer, said:
We have navigated the disruption and uncertainty of COVID-19 with our associates and guests at the heart of every decision. After closing our stores in the first quarter, we reopened our fleet in the second quarter with Shop Safe Standards and new operating procedures in place to protect the health and safety of all. I remain thankful and proud of our teams for their response and leadership throughout this challenging time and for their grace, agility and commitment to serving our guests. While the pandemic continues to impact our business, we are encouraged by improving trends. Comparable sales trends improved significantly throughout the quarter, from decreasing 37% in early May, as we began reopening stores, to decreasing 10% in July, when most of our stores were re-opened. Notably, sales trends have continued to improve, with comparable sales down in the mid-single digit range for the first three weeks of August.
We believe the near-term operating environment will continue to be dynamic and challenging, but I remain optimistic and excited about the long-term opportunity for Ulta Beauty. We know beauty enthusiasts remain passionate and engaged with the category, and we have great talent, a strong culture, a differentiated operating model, and the right strategy to drive growth. As we transition into the new normal, I am confident the Ulta Beauty team will continue to innovate, move with agility and efficiency, and grow as the largest and most admired beauty retailer in the U.S.