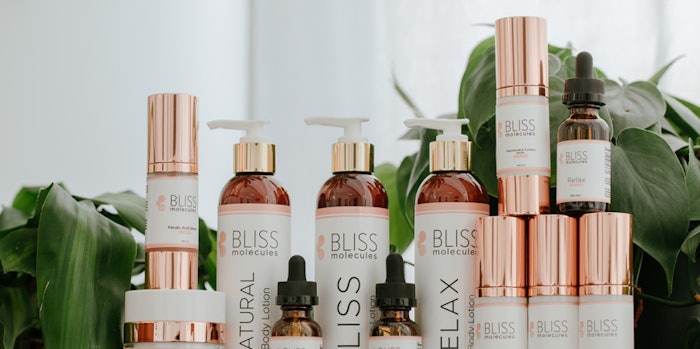 CBD cosmetics firm Bliss Molecules is working with J&B Investments to source industrial hemp through its farm, rather than outsource cannabidiol. This venture will reportedly allow both groups to tap into CBD cosmetics and the farm-direct markets worldwide.
Previously: CBD Spa Products
According to Bliss Molecules, the brand will hone in on CBD genetics to harvest specific terpenes. J&B will harvest an agricultural commodity that remediates the soil it grows in while generating biomass that's a sustainable fuel source. 
"Spreading joy isn't just for Hallmark anymore," said Bliss owner Bianca Prachyl. "I'm excited to embark on this, because neuroscience says it's important to feel bliss and farm-to-face CBD has the amazing potential to share it globally when it's most needed."
Brian Brady, vice president, J&B Investments said, "We're thrilled to announce this joint venture. It helps us develop, market and expand our hemp operation in Northern California, while giving us a destination for high-quality, small batch CBD and CBG strains and allowing us in partnership with Bliss to operate vertically, from farm to face."