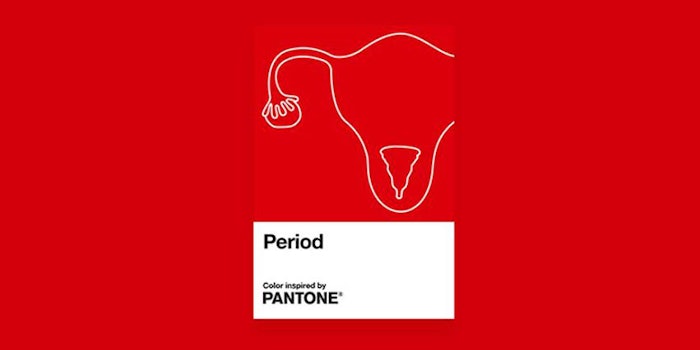 The Pantone Colour Institute has partnered with Intimina, a collective of experts on female health, to release Period, an original Pantone red color representing "a steady flow during menstruation." The shade is intended to make menstruation more visible and help destigmatize normal bodily functions. The move is in line with the beauty industry's rising focus on sexual wellness and emerging menopausal innovation: addressing bodies at every phase and stage.
Previously: See Pantone's 2020 Color of the Year
Period will serve as the banner for Intimina's Seen+Heard empowerment campaign. Simultaneously, Intimina has donated £2,000 to ActionAid to assist women and girls living in poverty.
"Pantone's 'Period' red shade represents exactly what our Seen+Heard campaign is about: making periods visible, encouraging positive conversations and normalising menstruation in our culture, our society and in our everyday lives," said Danela Žagar, Intimina Global Brand Manager, said Danela Žagar, Intimina global brand manager.
"An active and adventurous red hue, courageous Period emboldens people who menstruate to feel proud of who they are," said Laurie Pressman, vice president, Pantone Color Institute. "To own their period with self-assurance; to stand up and passionately celebrate the exciting and powerful life force they are born with; to urge everyone regardless of gender to feel comfortable to talk spontaneously and openly about this pure and natural bodily function."
"Many girls miss vital days of school, or even drop out altogether, which is one reason so many women experience life-long poverty globally," said Jillian Popkins, director of policy, advocacy and programs from ActionAid UK. "Without the stigma around periods, more women could escape poverty, fulfil their potential and strengthen their communities. This important campaign will help change that."