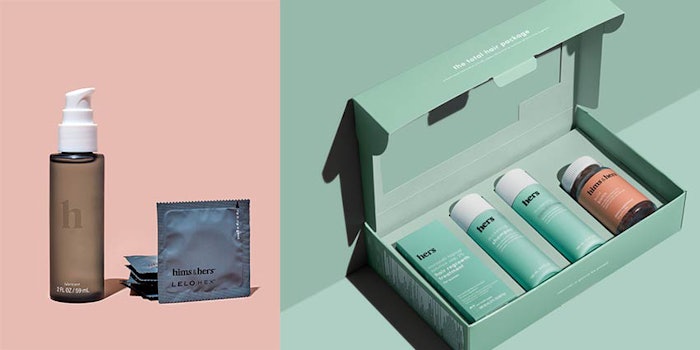 Hims & Hers, a telehealth platform in the areas of primary care, mental health, sexual health, dermatology and more, will be publicly traded via a merger with Oaktree Acquisition Corp. The deal will allow the company to expand into new categories.
Coming soon: Feel-good Beauty @ Beauty Accelerate
The combined company will have an "implied initial enterprise value" of about $1.6 billion, with the company expected to have an estimated $330 million in cash after closing.
The deal was supported by investors such as Franklin Templeton and clients of Oaktree, anchoring a $75 million PIPE (private investment in public equity). Existing institutional backers of Hims & Hers include Founders Fund, Forerunner Ventures, IVP, Redpoint Ventures, Thrive Capital, McKesson Ventures and the Canadian Pension Plan Investment Board will retain their equity.
Hims & Hers has reportedly facilitated more than 2 million telehealth consultations in all 50 U.S. states. It has achieved 100%+ compounded annual revenue growth over the last two years and has more than doubled gross margins to 70%+. More than 90% of revenue is recurrent.
The majority of its consumers are millennials, which is no surprise. As of June 2020, Hims & Hers had approximately 260,000 subscriptions on the platform.
"We're thrilled to partner with Oaktree Acquisition Corp. to usher Hims & Hers into our next phase of growth as we work to become the front door to the health care system, serving as the first stop for peoples' health and wellness needs across hundreds of conditions," said Andrew Dudum, CEO and founder of Hims & Hers. "Hims & Hers was founded to make it easier and more affordable for everyone to get the healthcare they need. We remain committed to advancing that goal as we expand into new categories of care and build an enduring healthcare company that brings choice, affordability and access to consumers."
"We are very pleased to launch our Oaktree Acquisition Corp. franchise with this partnership with Hims & Hers, a rapidly-growing provider of much-needed innovation to the health care system," said Howard Marks, co-chairman of Oaktree. "This transaction shows Oaktree Acquisition Corp. to be a complementary extension of Oaktree's capabilities and builds on our strength in sourcing opportunities throughout the market cycle."
"We founded Oaktree Acquisition Corp. to partner with a high quality, growing company that will benefit from a public currency for its next leg of growth," said Patrick McCaney, CEO of Oaktree Acquisition Corp. "Hims & Hers is an ideal match and represents a unique opportunity to invest in a rapidly-growing company that is modernizing the delivery and accessibility of healthcare and wellness solutions. Over the past two years, the Company has experienced significant growth bolstered by the continuing widespread adoption of telehealth and digital patient care solutions–and we think this is just the beginning. We look forward to partnering with Hims & Hers to accelerate the expansion of its high-quality, end-to-end care services across the broader healthcare marketplace."
For more information on the brand, visit https://www.forhims.com/hair-loss