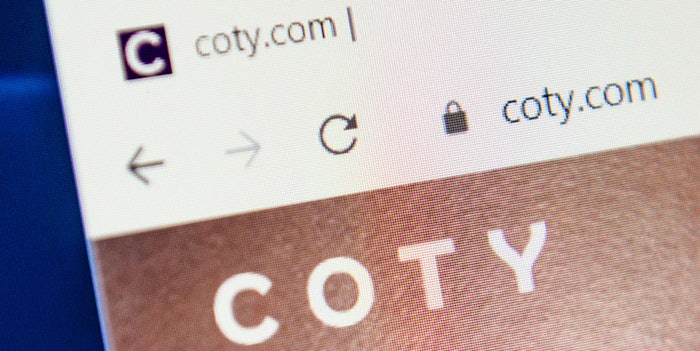 Coty has announced the appointments of Isabelle Bonfanti as chief commercial officer, luxury, and Jean-Denis Mariani in the newly created role as chief digital officer, effective Nov. 1, 2020. Edgar Huber, chief commercial officer, is stepping down after five years at the company.
Previously: Sally Beauty Announces New Marketing Leadership Team
Bonfanti worked in L'Oréal's luxury division for 17 years across a variety of international general management and commercial roles, spanning fragrances, cosmetics and skin care. She spent 10 years at Hermès in senior leadership roles, including international operational development director and communication and international retail operational director.
Bonfanti will be responsible for developing and executing Coty's global luxury sales strategy to increase market share, grow revenues and develop the company's organizational profile.
Mariani joins Coty from Guerlain—the French perfume, makeup and skin care house owned by LVMH Group—where he served as chief digital officer and a member of the executive committee. 
Mariani was responsible for Guerlain's digital transformation and e-commerce acceleration over 35 countries.
He will lead transformation of the company's approach to digital, including growing global e-commerce and DTC. According to Unilever, his appointment comes as the company generates record e-commerce sales, with e-commerce penetration more than doubling in recent months. E-commerce sales for beauty at Unilever continue to surge.
CEO Sue Y. Nabi said: "I am delighted to announce the appointments of Isabelle and Jean-Denis. I have followed Isabelle's career closely over the years and am very impressed with her skillset and deeply strategic approach. Her track record of successfully developing makeup and skin care brands, particularly in Asia, makes her a perfect fit for this role.
"Jean-Denis is also a perfect fit for Coty. One of the many seismic changes to our industry has been the meteoric rise of digital and e-commerce. Coty is now making strides in developing a digital offering that is truly best in class. Jean-Denis' brand-building expertise and track record of success across the world makes him a fantastic addition to our executive leadership team."
She added: "I want to extend my thanks to Edgar for all the leadership and expertise he has contributed to Coty over the past five years. Edgar is an experienced, respected leader and I'm happy he will stay with us for several more months as we transition to our new leadership approach."