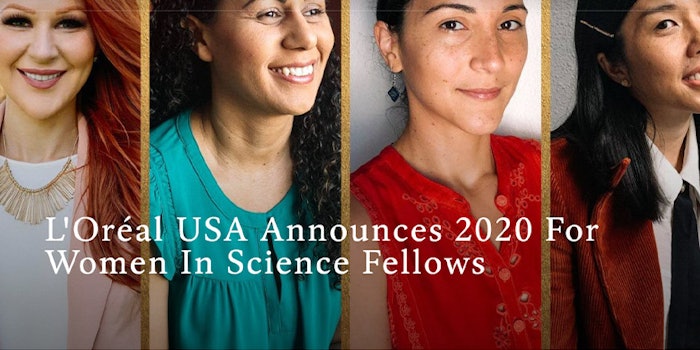 L'Oréal has announced the recipients of its 2020 For Women in Science (FWIS) Fellowship.
Related: Gemma Chan is L'Oréal Paris' New International Spokesperson
The annual program awards five female postdoctoral scientists grants of $60,000 each to advance their research.
The 2020 fellows include:
Cara Brook

, whose research in Integrative Biology at the University of California-Berkeley, focuses on understanding wild bats to illuminate pathways involved in mammalian disease and aging. Currently, Brook's emphasis is on the coronavirus (COVID-19) and seeking development of therapeutics to combat these processes in the human population.
Wendy Brown, whose research in Biomedical Engineering at the University of California, Irvine, focuses on growing cartilage from cells in anatomical shapes and sizes for surgical implantation. Her research seeks to help millions of people around the world with facial damage due to cancer, burns, congenital defects, or other physical trauma.
Kayla Nguyen, whose research in the field of Physics and Material Science and Engineering at the University of Illinois Urbana-Champaign, is dedicated to taking pictures of the smallest building block in the universe, the atom, using a tool called the electron microscope. Taking increasingly detailed, higher resolution images of atoms promises to improve drug delivery systems, quicken computer processing, and make fuel cell cars more accessible, to name a few examples.
Nancy Padilla-Coreano, whose research in Systems Neurobiology at The Salk Institute of Biological Studies, San Diego, explores how the brain encodes social dominance. Understanding how the healthy brain encodes social information, and how circuits control social behavior, can aid the development of potential therapies for social deficits.
Silvania da Silva Teixeira, whose research in metabolic diseases at the University of Colorado, focuses on the treatment of late-stage Type 2 Diabetes (T2D) by stimulating insulin secretion with a daily pill instead of managing insulin levels with daily injections. The proposed research can positively affect the quality of life of millions of Americans.
Danielle Azoulay, vice president of corporate social responsibility and sustainability, L'Oréal USA said, "L'Oréal USA's 2020 For Women in Science Fellows represent a depth of expertise across the scientific spectrum, and we are inspired by the world-changing work they are doing. At a time in which we are constantly reminded of the importance of science, it is all the more critical to be supporting the representation of women in STEM."
Aparna Bhaduri, postdoctoral scholar at the University of California, San Francisco's department of neurology, and 2019 FWIS Fellow said, "The L'Oréal USA For Women in Science fellowship has been incredible in supporting my transition to independence in my work, which is focused on brain cancer, its treatment, and increasing the survival rate. It has given me the confidence to take professional risks and supported the jump start of my new lab, which is opening early next year. It is my hope that the 2020 For Women in Science fellows will help guide each other and serve as leaders and role models in their fields until female scientists are so prevalent that we equalize opportunity at all levels of achievement."