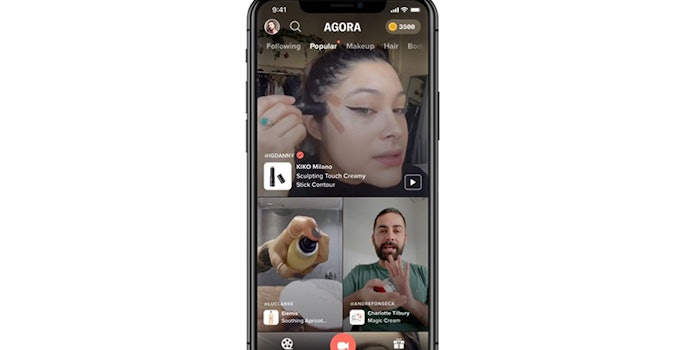 U.K.-based startup Agora, a social commerce platform for beauty, has raised £5 million (~$6.7 million) in seed funding led by Draper Esprit with participation from Lakestar, Angel Capital Management and others.
Previously: Shampora Completes €3 Million Round of Funding
The Agora app allows beauty fans to monetize their talents by creating and sharing video content that links directly to products from their favorite beauty brands.
Riccardo Basile and Elizabeth Craft Townsend-Rose launched Agora in April 2020 with the aim of bringing the breadth and excitement of an offline beauty shopping experience online.
Agora has 50,000 registered users who have joined the app, mostly organically. Content creators have produced in excess of 50,000 videos to date.
Basile and Craft Townsend-Rose were previously part of the founding team of e-commerce company Lazada, which was bought by Alibaba in 2016. 
Basile said, "We built Agora to transform the online beauty shopping experience and create opportunities for real people to monetize their talent and creativity, something that has only been available to brand-sponsored social media influencers. Agora will empower a new category of entrepreneur." 
Craft Townsend-Rose said, "We will use the funds to reach new audiences and to build out the platform. We are particularly excited about the opportunity to offer live-streaming events and to use data in order to deliver a personalized, differentiated beauty shopping experience."
Christoph Hornung, investment director at Draper Esprit, said, "We have a strong conviction that there is a huge market opportunity in Europe to build the predominant social e-commerce platform for beauty. Riccardo, Lizzie and I have worked together before at Lazada; we are all strong believers in fast execution. Draper Esprit is extremely excited to back Agora as they build the largest social beauty business in Europe and beyond."
Mika Salmi, managing partner at Lakestar, said. "We are delighted to support Agora in their vision to bring video-centric social commerce to Europe. Riccardo and Lizzie are strong entrepreneurs who know this market well from their previous experience at Lazada in Asia."