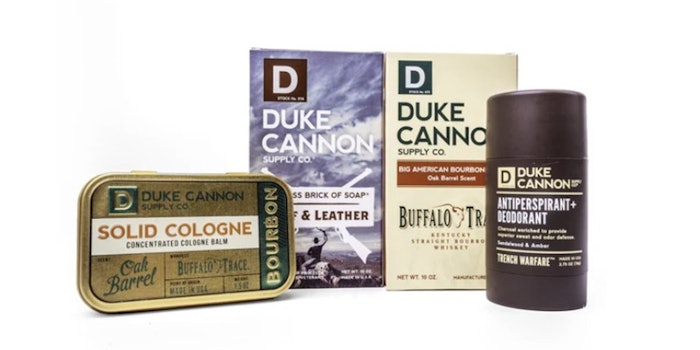 Men's grooming company Duke Cannon has announced it received a strategic growth investment from Main Post Partners, a private equity investments firm. The amount was not disclosed. 
Previously: UK Startup Agora Raises £5 million in Seed Funding
Update: Jeff Mills, managing partner, Main Post Partners, told Global Cosmetic Industry: "We think authentic, trusted brands with great formulations that do what they say, will continue to be the winners in beauty/ personal care. That is why we look to back companies with tenure like Not Your Mothers, Dr Dennis Gross and Duke Cannon. These brands deliver on a promise to consumers and have been doing so for years in the most interesting, high growth categories today: hair care, skin care and men's."
Duke Cannon—founded in 2011 by Anthony Albanese, Sam Swartz and Ryan O'Connell—provides men with high-quality, premium grooming goods.
Duke Cannon quickly gained footing in independent and specialty retailers like Carhartt, Duluth Trading Co., and Ace Hardware, with recent expansion into over 30,000 doors at Target, H.E.B., Hy-Vee, CVS and Walgreens.
The brand continues to donate a portion of its profits to causes that benefit veterans.
Sam Swartz, co-founder and vice president of marketing, said: "We launched this brand for one reason: We were unhappy with the men's grooming options available at the time. We did not believe the teenage-targeted body wash brands from the big companies reflected the values of decent, hard-working men, and other challenger brands seemed to take themselves way too seriously. With Duke Cannon, we needed to employ a different playbook, so we built a brand grounded in functionality, fun, and purpose. This unique approach has led to a sizable and fast growing legion of deeply loyal fans."
Mills added: "We have long admired the brand that Sam, Anthony and Ryan have built and are believers in the quality of their products and mission driven purpose of the brand. Duke Cannon is disrupting this large category and we are excited to support the team as they grow their base of loyal customers both online and in-store. "
Anthony Albanese, co-founder and vice president of innovation, said: "We could not be more excited to partner with Main Post. They really got our brand, culture, and mission and they have traveled the road ahead."