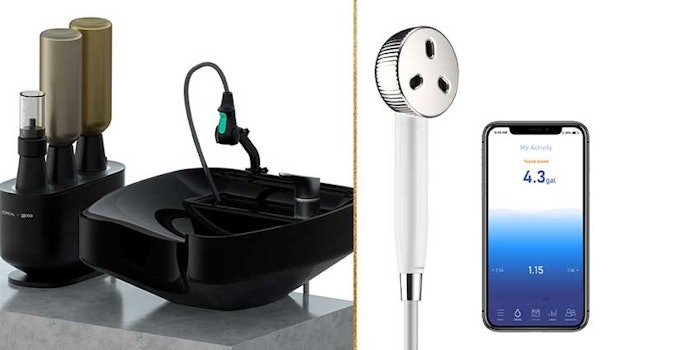 CES 2021 Innovation Awards have recognized beauty tech honorees for the event taking place January 11-14, 2021.
Previously: CES 2020 Beauty Highlights
L'Oréal Water Saver
The L'Oréal Water Saver is a sustainable hair care system for the salon and at-home beauty routine, developed with environmental innovation company Gjosa. 
The system reduces water usage by up to 80%. It uses two liters of water per minutes, compared to the standard eight liters. It also creates droplets that are 10 times smaller, for better absorption and faster rinsing.
The L'Oréal Water Saver is available in L'Oréal salons in New York and will be available in select salons in Paris starting in February 2021, with a global rollout spanning 2021 and 2022.
"We believe it is our responsibility at L'Oréal to do our part to preserve the earth's natural resources,"  said Nicolas Hieronimus, Deputy CEO, L'Oréal Group. "Every drop of water is precious, and our new technology makes every drop of water count. L'Oréal Water Saver represents the next phase of our beauty tech ambition—one that delivers an exceptional personalized beauty experience while embodying our commitment to sustainability in every aspect of our business."
"Our work at the L'Oréal Technology Incubator for the past decade has been committed to merging beauty with technology," said Guive Balooch, Head of the L'Oréal Technology Incubator. "Our goal is to challenge ourselves to reinvent the beauty experiences we know to create better, more efficient, and more personalized results for our consumers. L'Oréal Water Saver is backed by advanced technology—but what is most important is that it improves on our consumers' existing haircare experience and excites and inspires them."

Amorepacific's Lip Makeup Manufacturing, Active Toner Blending
Amorepacific's Lip Factory by Color Tailor is an integrated online-offline lip makeup manufacturing system. 
It utilizes the AI-based mobile application 'Color Tailor' to recommend customized lip makeup colors. The pigment dispensing system 'Lip Factory' then can manufacture the customized product immediately on-site. The 'Lip Factory by Color Tailor' can recommend and produce over 2,000 shades of lip color makeup.
Its instant active toner blending device Formularity first blends a dose of the selected ampule in a liquid toner base. It then soaks a pre-inserted cotton pad with the blended formula and heat or cools the soaked cotton pad to an ideal temperature for skin absorption. Up to three different skin care ampules can be installed in the device, making it versatile for changing everyday skin conditions.
"Amorepacific is thrilled to be exhibiting our award-winning smart beauty technologies at CES again this year," said Aiden Park, Ph.D., vice president of Amorepacific R&D center's basic research and innovation division. "We look forward to presenting more digital beauty innovations from Korea in the future."