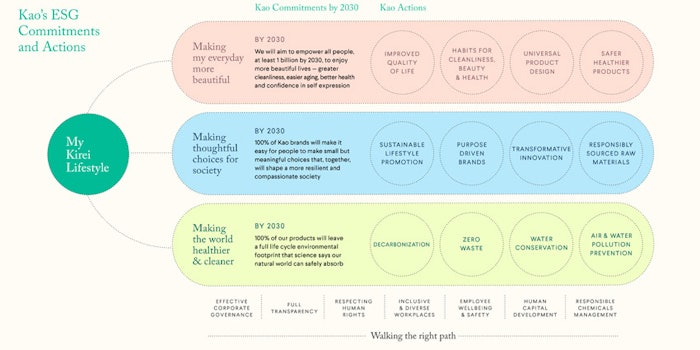 Kao Corporation has released progress reports on its ESG (environmental, social and governance) strategy, the Kirei Lifestyle Plan, which was first announced in April 2019.
Related: Kao Sets New Targets to Become Carbon Negative
In the report, Kao was recognized for its work from:
CDP, a leading international NPO, included Kao on the A List, based on a global survey of business enterprises.

Dow Jones Sustainability World Index included Kao for the seventh consecutive year, for socially responsible investment (SRI) index. 

World's Most Ethical Companies 2021 list by United States think tank Ethisphere Institute ranked Kao.
Kao announced it had met its goal of planting 42,500 trees to help improve rapid deforestation in northern Thailand. 
The company has also announced its new intention to complete traceability confirmation for palm oil smallholders by 2025.
However, Kao was unable to reach some of its 2020 targets including:
35% reduction in lifestyle CO2 emissions: instead, it reached 18%.

30% reduction in water consumption during product use; instead, it reached 26%.

educating 12 million people on cleanliness and good hygiene; instead, reached 3.74 million people. (One imagines some of this outcome may have been pandemic-related.)
Dave Muenz, executive officer in charge of Kao's ESG Division, noted that: "2020 was a challenging year with the entire organization adapting to the myriad of changes triggered by the COVID-19 pandemic. However, this did not hinder but rather accelerated our commitment to ESG. Kao rapidly responded to the urgent need for hygiene products across its markets, including substantially increasing our production capabilities of hand sanitizers in Japan by thirtyfold. Our efforts to minimize plastic waste saw the launch of MyKirei by Kao in the United States with our innovative thin air-in-film packaging. Addressing climate change continues to be one of our top priorities, and Kao will pursue its RE100 and CO2 reduction goals aligned to SBTi 1.5 degrees scenario in order to achieve our ambitious targets of carbon zero by 2040 and carbon negative by 2050. As the company works its way into the first year of our mid-term business strategy—K25—the Kirei Lifestyle Plan will continue to form our ESG strategy and serve as the cornerstone of making Kao an indispensable partner of a sustainable society and the people that we provide for."