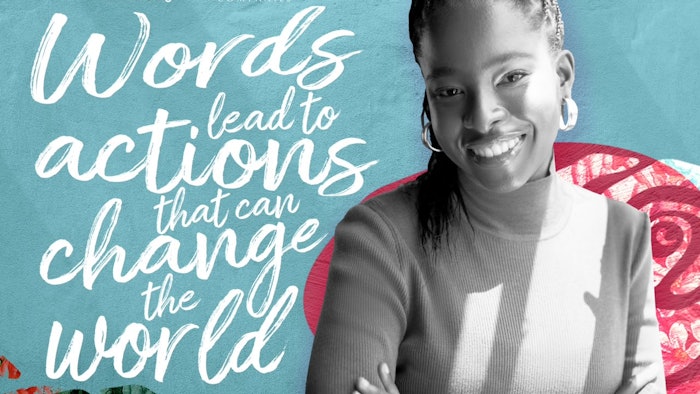 The Estée Lauder Companies (ELC) has announced the first-year grant recipients for its Writing Change initiative, a global-three-year, $3 million investment in organizations working to close the literacy gap and advance systemic changes across equity, advocacy and artistic expression. The initiative was inspired by Amanda Gorman, the youngest inaugural poet in U.S. history and Estée Lauder brand ambassador.
Related: SCC Announces Madam C.J. Walker Scholarship Winners
In its first year, ELC focused on U.S. organizations but plans to expand globally in the second and third years of the initiative. The recipients were chosen based on their ability to collaborate across the non-profit sector and broaden the scale of their programs with a focus on helping diverse communities.
The grant recipients, by category, include:
Access: American Library Association (ALA)—The largest library organization in the world, ALA works to promote libraries and library education to enhance learning and ensure equal access to information. The grant will support an innovative pilot project for 12 libraries in the United States. The project emphasizes diverse artistic expression as a platform for community and aims to reach approximately 3,600 individuals in its first year. 
Advocacy and Representation: We Need Diverse Books (WNDB)—A 501 nonprofit organization that combats systemic racism and oppression by promoting diversity and equality. The grant will support WNDB's mentorship programs, grants and workshops through The Native Fund, The Black Creatives Fund, and the Revisions Workshop.
Engaging Youth in Writing as a Form of Artistic and Social Expression: Girls Write Now—This mentorship program matches young adults (more than 90% of color and high need) with professional writers and multimedia creators to build a supportive network of mentors for aspiring professionals. The grant will support the group's core programming and Writing 360 program, giving it a greater national presence. The brand hopes to reach an additional 600 mentees next year.
Community Support: WriteGirl and MIGIZI—The initiative will also provide local community-based grants to Los Angeles-based WriteGirl and Minneapolis-based MIGIZI. WriteGirl is a creative writing and mentoring organization for more than 400 women, with 100% of the program's graduating seniors entering college. The grant will support its mentorship program. MIGIZI provides educational, social, economic and cultural support to Native American youth. The initiative will support its First Person Production program, providing young Native people with 21st-century media skills and space for emerging storytellers.
Fabrizio Freda, president and CEO, The Estée Lauder Companies, said, "We are so proud to launch Writing Change. This program is deeply tied to our company's long-standing commitment to the advancement of education, particularly for women and girls – and was deeply inspired by Amanda's belief in literacy as a pathway to change and its mission. Amanda herself demonstrates the power of storytelling and the impact of words on the lives of young people and how words can be a catalyst to effect change."
Gorman said, "I am so thrilled that the work of these worthy organizations can continue to reach more communities through Writing Change. Representation in literacy matters. For youth, literacy is a pathway to social expression that leads to progress. I truly believe that words lead to actions that can change the world. I am so proud of the work that I know is to come, and I look forward to this first year of impact through Writing Change."
William P. Lauder, executive chairman, The Estée Lauder Companies, said, "Amanda is a role model for an entire generation of new leaders, and we are deeply inspired by her energy, passion, and thought-leadership. We're honored and excited to be behind these incredible organizations making amazing crossroads in literacy."
More on the Writing Change initiative and the inaugural grantees is available here.