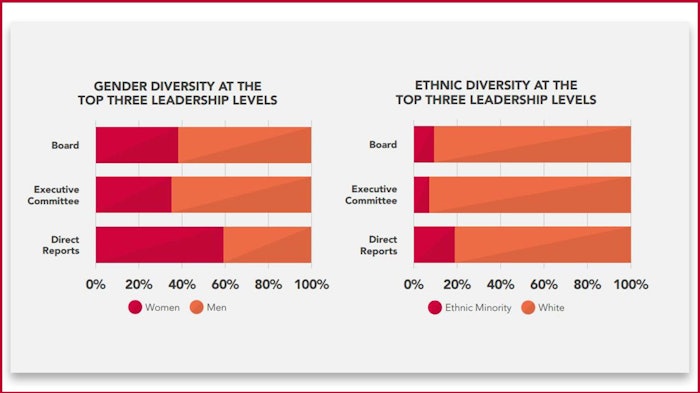 The MBS Group has partnered with CEW UK and ScienceMagic.Inc to develop a report on the status of diversity, equity and inclusion (DE&I) in the beauty industry. The study concluded that there is a desire for progress and many initiatives in place, but there is still room for improvement, specifically in the percentage of companies with diversity and women in leadership roles.
Related: Beauty 2021-2024 Decoded
The study reached out to the 100 largest beauty companies operating in Europe to gather quantitative and qualitative data on industry leadership teams.
The group reports hesitancy among leaders in beauty to discuss diversity issues. Of the 100 companies requested for interviews, less than 50% responded. In one case, a company opted out of the case study despite excellent performances and advanced strategies in DE&I.
Per the report, more than 65% of executive committee seats in the beauty industry are held by men. Of respondents, 51% have no ethnic diversity on their executive committee and 48% have no ethnic diversity on their board of directors.
Some opportunities for growth highlighted by the study include the potential for businesses to adapt to changing standards and adjust leadership teams to reflect beauty's increasingly inclusive marketing and products.
Since beauty's consumer base remains predominantly female, businesses should strive to reflect that in its leadership teams, building a group that can relate to the needs of its primary consumers.
A lack of a female talent pipeline is often cited as a blocker to progress gender diversity, but per the report, there is a plethora of female talent in the beauty sector, proving companies an opportunity to promote home-grown female talent into senior roles.
The MBS Group reports that despite some of these challenges, there are still plenty of best practices across the sector from inspirational businesses of all sizes. According to the study, the industry overall has highly comprehensive DE&I frameworks, best-in-class academy schemes and forward-thinking partnerships with external organizations.
Read the entire report here.