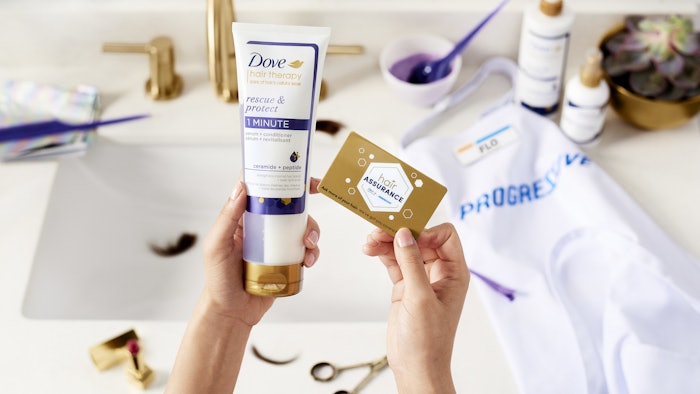 Dove has partnered with insurance company Progressive on promotional sweepstakes for the Dove Hair Therapy Rescue & Protect system. The Hair Assurance sweepstakes offers 2,000 selected participants a $100 digital gift card toward their next salon visit.
Related: Glossier Announces Partnership with Olivia Rodrigo
Individuals are eligible to enter the sweepstakes with the purchase of any two Dove Hair Therapy products from Target, Walmart or Kroger. There is also a mail-in registration option. The sweepstakes ends on April 26, 2022, and winners will be selected and notified via email on May 6, 2022. The gift card is redeemable through the end of 2022.
Dove Hair Therapy strengthens and nourishes hair at a cellular level to protect it during styling.
Brian Critz, senior marketing director, Hair Care, at Unilever, said, "In addition to the incredible protection against daily styling damage offered through Dove Hair Therapy products, we are excited to be collaborating with Progressive to offer women the chance to win Hair Assurance. Through this partnership, we at Dove hope to empower women to ask more of their hair – without the fear of damage. As a leading insurance provider, a partnership with Progressive made sense because they value exceptional care and protection as much as we do at Dove."
Remi Kent, chief marketing officer, Progressive, said, "When Dove came to us with a promotion that was all about protection, we were all in. We love Dove's support of women, real beauty, and their wholehearted belief that differences should be celebrated. Our core values are aligned which made it a natural fit."